3dsmax 9 - SPECapc 3dsmax CPU Rendering Test
Today's desktop processors are more than fast enough to do professional level 3D rendering at home. To look at performance under 3dsmax we ran the SPECapc 3dsmax 8 benchmark (only the CPU rendering tests) under 3dsmax 9 SP1. The results reported are the rendering composite scores: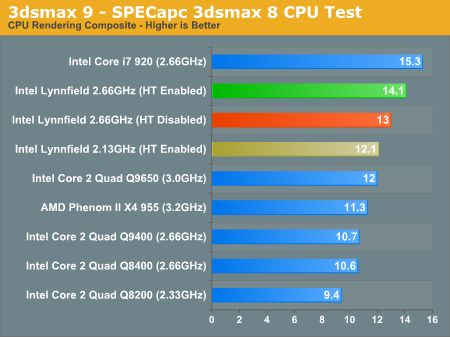 There are three key takeaway points here.
1) Hyper Threading allows the i7-920 to outperform the entry level Lynnfield by nearly 18%.
2) With HT disabled, the $196 Lynnfield is faster than the $316 Core 2 Quad Q9650. It's a true replacement for Penryn in the lineup.
3) Intel could release an even slower Lynnfield and, by enabling HT, offer a chip faster than all other Penryn and Phenom II based processors in the market.

Cinebench R10
Created by the Cinema 4D folks we have Cinebench, a popular 3D rendering benchmark that gives us both single and multi-threaded 3D rendering results.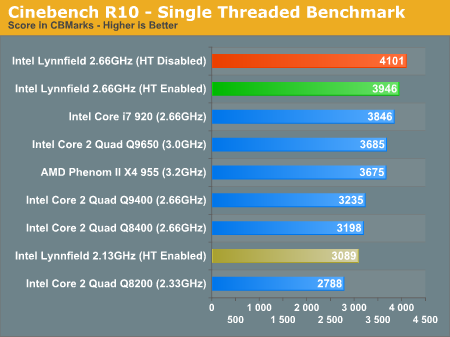 The single threaded Cinebench test shows us just how powerful the Nehalem core is. Remember, we're looking at single-core performance here.
Without an aggressive turbo mode, the 2.66GHz Lynnfield sample is faster than a 3.0GHz Penryn. Even at 2.13GHz Lynnfield is able to perform like a 2.5GHz Penryn. This is a very flexible core.
These results also give you an indication of exactly how strong the dual-core Nehalem derivatives will be in notebooks late this year and into 2010.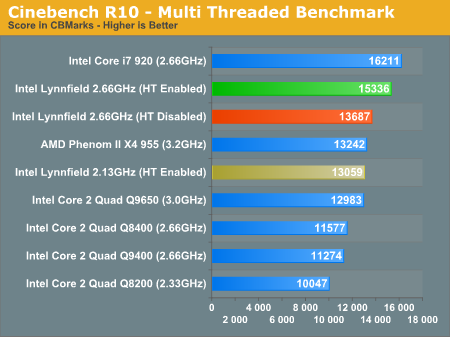 Crank up the thread count and feel the frustration brew. The entry level Lynnfield won't have Hyper Threading enabled, and thus it'll only outperform the Phenom II 955 by 3.4%. Had Intel enabled the HT switch, Lynnfield would not only be 16% faster than AMD's best but it would also be only 5% slower than the i7-920.
POV-Ray 3.73 beta 23 Ray Tracing Performance
POV-Ray is a popular, open-source raytracing application that also doubles as a great tool to measure CPU floating point performance.
I ran the SMP benchmark in beta 23 of POV-Ray 3.73. The numbers reported are the final score in pixels per second.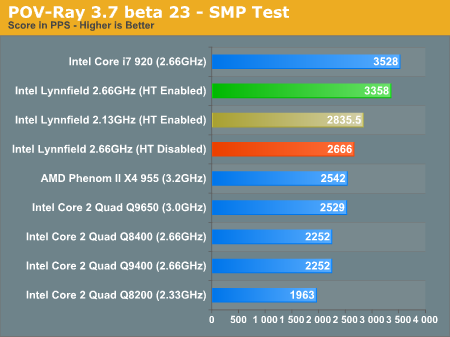 We see a similar story in POV-Ray.