Note: This article was not condoned or supported in any way by Intel. We obtained all pre-release hardware on our own. Enjoy.
The Recap
Yeech, ok, this is more complicated than it should be. Last year Intel launched its brand new Nehalem architecture, the first processor was codenamed Bloomfield and sold as the Core i7.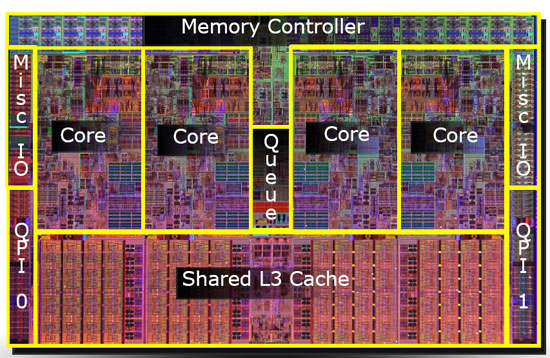 Nehalem - Bloomfield, aka Core i7
The Core i7 has four cores (with Hyper Threading, so that's 8 threads), an 8MB L3 cache and a triple-channel DDR3 memory controller. Of course there's a lot of other special sauce that makes the i7 the beast that it is; if you want more details check out my original Nehalem architecture article.
Since its launch, i7 has only been available in three flavors: the 920, 940 and 965. The most affordable one, the i7-920, costs $284 in 1Ku quantities.
| | | | | | |
| --- | --- | --- | --- | --- | --- |
| Processor | Clock Speed | Cores / Threads | Maximum Single Core Turbo Frequency | TDP | Price |
| Intel Core i7-965 Extreme | 3.20GHz | 4 / 8 | 3.46GHz | 130W | $999 |
| Intel Core i7-940 | 2.93GHz | 4 / 8 | 3.20GHz | 130W | $562 |
| Intel Core i7-920 | 2.66GHz | 4 / 8 | 2.93GHz | 130W | $284 |
The Core i7 fits into Intel's new LGA-1366 socket and is mated with Intel's X58 chipset: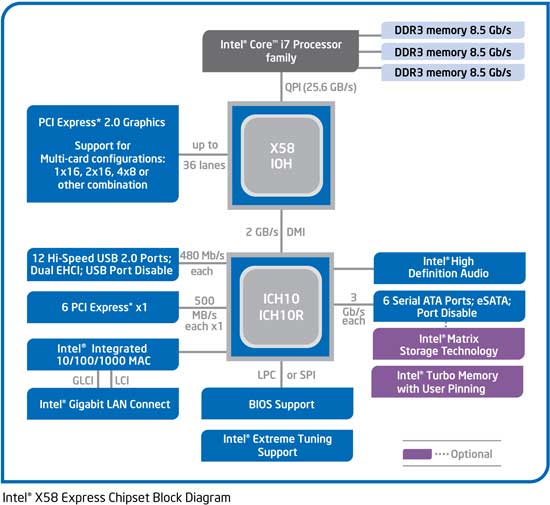 With the memory controller on-die, the X58 chipset acts like a PCIe switch than anything else; all other I/O (e.g. USB, SATA, Ethernet, etc...) go through the ICH10 which is connected to the X58 hub.
Despite being a relatively simple piece of silicon, Intel prices the X58 chipset as a premium product. The X58 chipset is more expensive than any other desktop Intel chipset on the market, that includes P45 and X48. In turn, X58 motherboards are pricey.
At launch X58 motherboards sold for well above $200 and it took a while for us to see boards finally drop down to and below that $200 price point. Only recently have we found a motherboard that's even somewhat affordable with MSI's X58M priced at $169.
With a $200 motherboard and a $284 CPU, the i7 was priced out of competing with even AMD's highest end Phenom II. While the Phenom II X4 955 costs $245, you can easily pair it with a $100 motherboard.
Rather than drive LGA-1366 pricing down, Intel had another plan - to introduce a more mainstream platform for Nehalem.