We were speaking with MSI a few weeks ago about their upcoming product plans and one item stood out in the conversation. No, it was not the excellent 790FX-GD70 motherboard that has earned our admiration and soon our praise, nor was it the new N260GTX-Lightning Black Edition GTX 260 video card or their updates to the Wind Netbook line. Now, all of these and some we cannot discuss are actually very interesting products for their market segments. However, when we heard X58 and $150 in the same sentence, our ear lobes tweaked and sly smiles developed on our faces. We were told that MSI was hard at work on delivering an X58 motherboard as close to the $150 mark as possible.
We thought this idea was really interesting and certainly made sense when looking at the current Intel product lineup - a lineup that currently means either going Socket 775 and buying into the P45 chipset in the $85~$130 range or smartly bypassing the now defunct X38/X48 lineup for the X58 product along with its processor and RAM upgrade requirements. The mere mention of X58 typically means a $300 ringtone goes off in our minds. Lately, that ringtone has become softer as several boards are available in the sub $200 range including MSI's X58 Pro and various models from ECS, Foxconn, DFI, and Gigabyte.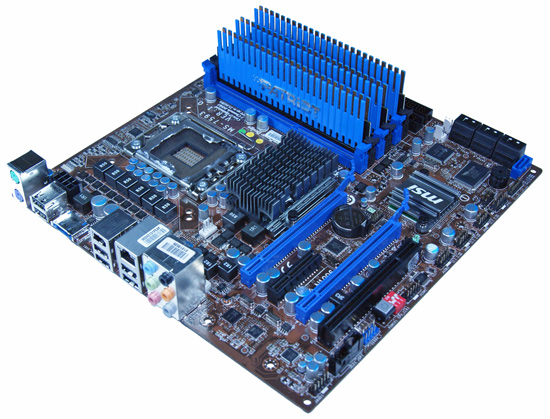 Well, MSI tried their best to hit the $150 mark and might still make it if rumored price cuts on the X58 hold true in the near future. The board MSI is targeting into the entry level X58 market is the X58M and it arrives in a uATX form factor with an MSRP of $169.99. It's close to the eventual $150 price point but this motherboard is anything but entry level in many ways. The board features the X58 IOH, ICH10R with six 3Gb/s SATA ports, JMicron JMB363 for an additional 3GB/s SATA port, IDE support, and an eSATA port. Also included from the land of Crabs is the Realtek ALC 889 HD audio codec and RTL8111C Gigabyte LAN. MSI even tossed in IEEE 1394a support along with a great layout and overclocking friendly BIOS backed up by some excellent electrical components.
We are starting to see significant interest in the uATX form factor again in the higher end SFF market. In fact, the Core i7 runs cool enough and draws low enough voltage that a user can design a top performing multi-use system around this combination. We expect to see several new uATX designs when P55 hits the market later this year, if not mini-ITX designs based around it. As such, the MSI X58M joins the DFI LANParty JR X58-T3H6 and ASUS Rampage II GENE in the current X58 uATX market, with others set to join shortly.
We are providing a first look at the X58M today, with the goal of providing enough information on the board to make an informed purchasing decision before we complete our next X58 roundup. So, let's look at the board and initial performance results and see if we have a Mighty Mouse or Mallrat on our hands.