Value Midrange Common Components
While AMD and Intel architectures differ in sockets and sometimes memory configurations, more is the same in the two systems than different. For that reason the Intel and AMD value midrange systems share a number of common components.
For video card best value we have paired the PowerColor AX4850 Radeon HD 4850 512MB with both the Intel and AMD systems. Our recent Video Card Buyer's Guide recommended the 4850 512MB as the best value in the $130 to $150 price range. With many vendors now offering rebates that yield a final price of $120, the 4850 is an excellent value. Architecturally the 4850 and 4870 are the same card, with the 4870 clocked higher. At lower resolutions the 4850 and 4870 perform about the same, making the 4850 a great match to our value midrange system, where price is a large concern. You will certainly be happy with the gaming capabilities of the 4850, especially when you consider bang-for-the-buck.
On the Intel system, the Gigabyte GA-EP45-UD3P motherboard provides a second PCI x16 slot. Video performance can be improved even further by adding a second Radeon HD 4850 512MB in CrossFire mode. You can also start with the 4850X2, which combines two 4850s in a single slot for about $260. This is actually a bit higher than just buying two 4850 cards for CrossFire, but there are board real estate savings with both cards on a board in a single slot. You could also upgrade to the 4870 1GB for more power at higher resolutions with "eye candy" turned on. The 4870 1GB upgrade adds about $40, and the added memory can be useful for resolutions of 1920x1080 or higher. The motherboard choice for AMD is the Biostar TForce TA790GX3 A2+, which also provides multiple x16 slots for CrossFire, so the same video options apply to the AMD value system.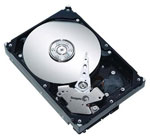 1TB hard drives are now a routine hard drive capacity. The 1TB drives are large, fast, and stable, so it was easy to recommend the Seagate Barracuda 1TB drive (1000GB) at $90. While the Seagate 1.5TB and early 1TB Seagate drive were plagued with problems upon release, the performance and reliability of this 1TB Seagate model has been excellent in our testing so far. For the price of around $90 the value is incredible. While there are differences between hard drives, outside of running benchmarks most people aren't likely to notice the difference in performance between Western Digital, Seagate, Samsung, Hitachi and other major brands. All are worthy of consideration if the price per gigabyte (or terabyte) is right.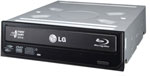 We wanted the optical drive for our value system to have the ability to play Blu-ray disks. The flexible LG GGC-H20LK has the ability to read both Blu-ray and HD-DVD format disks. It also can burn DVDs at 16x speed in single or dual-layer formats. It cannot, however, burn 25GB/50GB Blu-ray disks. Adding the ability to burn BDs increases the cost to around $200 to $250. BD burners like the $200 LITE-ON SATA burner or the $230 LG GGW-H20LK 6X Blu-ray burner are good alternatives.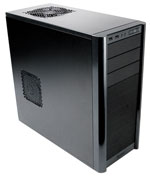 Cases are often very personal choices when it comes to features, and you may already have a favorite. If you don't you should look at the recommended Antec Three Hundred. The Three Hundred is a bottom-mount power supply design. Some love this configuration, others hate it, but it works well in the Three Hundred. It is definitely reasonable at the current $55 cost, but that does not mean it is a "cheap" case. It comes standard with a 120mm rear exhaust fan and a 140mm top fan, which both feature a 3-speed switch. There is also room to mount two additional front 120mm fans behind a washable dust filter, so you can effectively cool anything from a single hard drive to a large RAID array. Inside are a total of nine drive bays - six internal 3.5" drive bays and three 5.25" external. Front USB, headphone, and microphone jacks are also standard, and they are conveniently located at the top of the front panel. That makes them usable in the common "on the floor" setup. If you prefer a more traditional case configuration the Cooler Master Mystique, selling for $80, mounts the PSU on top, provides font panel jacks, and is also loaded with expansion ports and two 120mm fans.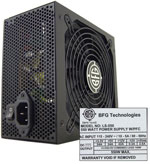 The power supply for the value midrange systems is the winner of the recent 500W to 550W PSU roundup. The BFG Tech LS-550 grabbed our Gold Editors' Choice in the roundup for its great balance of performance and value. The BFG delivered good performance in every aspect, with tight voltage regulation and ripple well within specifications. Efficiency was through the roof, with 86% efficiency at 20% load. It also generated the highest maximum efficiency of 88% on 230VAC and 86% on 120VAC. With a good selection of connectors and reasonable cable lengths, the LS-550 is a great PSU for a value-oriented midrange system.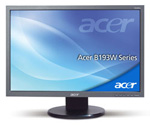 The last major component to discuss is the display, and here the tilt was toward best value at full 1080p HD (1920x1080) resolution. In our last guide we chose a "new class" of 16:9 21.5" LCD monitors that provide true 1080p resolution at the then break-through price of just $199. Three months later we can choose a larger Acer 23" (nominal 24") monitor for even less at $190. With the 21.5" now $180 and the same resolution available as a 23" for just $10 more the larger monitor is the better value. It is also worth mentioning that the Acer 23" is one of the few monitors in its class that comes with all three video cables. Yes, an HDMI cable is included in the Acer box.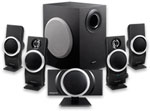 The Logitech X-540 has been a perennial favorite of users as a reasonably priced, good-performing, powered 5.1 computer speaker system. At $80 it will certainly not challenge the performance of a separate Dolby amplifier powering audiophile speakers, but it will provide surprisingly good sound for the price. The Creative Inspire T6100 76W 5.1 Speaker system is a similar powered speaker system that is selling at about the same price as the X-540. The Creative speaker system is our choice in the AMD value midrange system, but either speaker system is a good choice for these value midrange builds.
These are clearly desktop systems, so the keyboard and optical mouse are the basic Microsoft OEM kit. If you have more specific needs or a favorite gaming mouse you likely know more exactly what you prefer. The Microsoft pair is very capable for most. For greatest compatibility we have chosen Microsoft Vista Home Premium OEM as the operating system. Unless you have specific networking and special enterprise security needs there is no real reason to pay extra for Vista Ultimate. One thing to note is that if you buy a full retail Ultimate DVD, you can get a discounted price on a second copy of Vista. We have selected the OEM "single install" version of Vista, in order to reduce costs.