Battery Life
For battery life testing, we run all laptops at around 100 nits brightness. If you choose to run your LCD at maximum brightness, you may lose anywhere from 10 to 60 minutes depending on the laptop and the display. In the case of the Studio XPS 16, maximum brightness is 280 nits and uses 9W more power, so the impact on battery life is quite significant (see the idle chart below for reference).
We run several different battery life scenarios: Internet surfing (load several webpages using the wireless adapter every minute until the battery dies), DVD playback, x264 playback, and idle (maximum) battery life. For x264 playback, we copy a 720p file to the hard drive and loop playback using Windows Media Player Classic Home Cinema; we will include scores from other laptops, but it's worth noting that we did not have GPU accelerated x264 decoding enabled in previous laptop tests. We have battery life results for Blu-ray playback on laptops that ship to us with a Blu-ray drive. We've also included web surfing results (and DVD for the MacBook Pro) for the latest Apple MacBooks as a point of reference.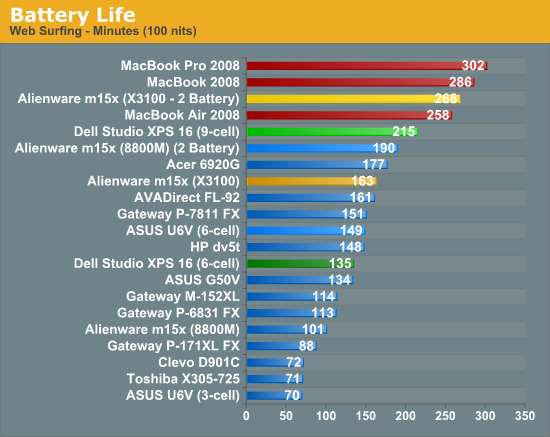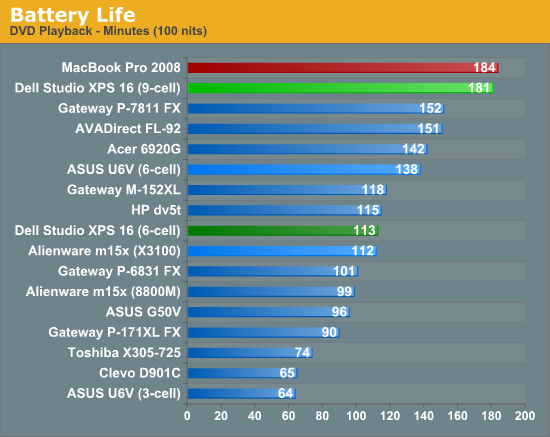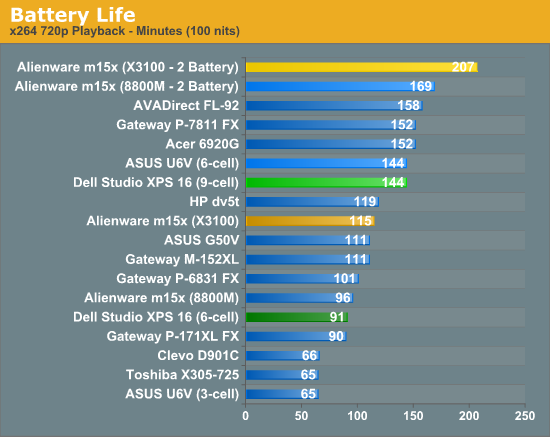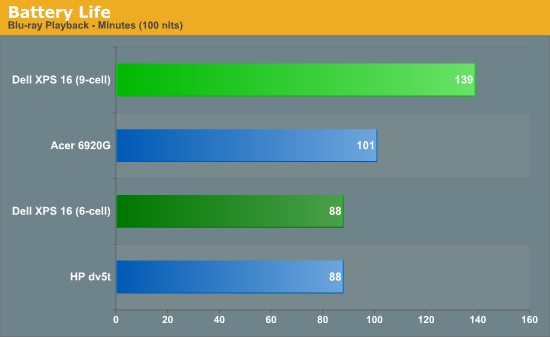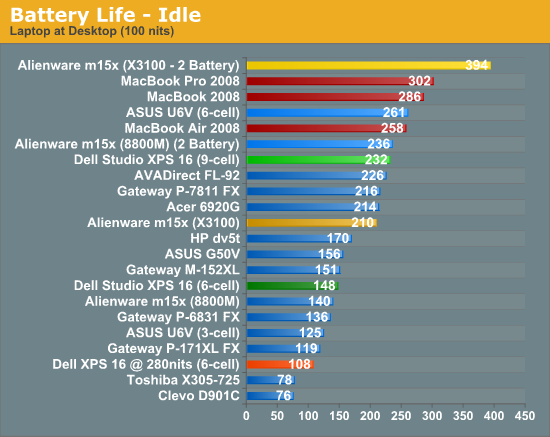 Battery life is nothing special, particularly when compared with similarly equipped notebooks. Purchasing the extended capacity battery does allow you to reach over three hours of battery life, but the same can be said of other notebooks. You can also see what happens if you turn up the display brightness. At maximum brightness sitting at the desktop, you only get 108 minutes of battery life. Perhaps that's just the price we have to pay for the beautiful LCD.
As we've mentioned in the past, Apple's MacBook and MacBook Pro provide an almost untouchable amount of battery life. To give you a true apples-to-Apples comparison, we've calculated the amount of battery life you get per Whr (Watt Hour) of battery capacity: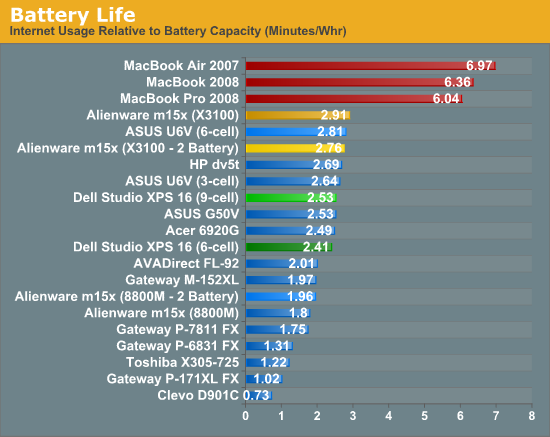 We can only hope that Windows 7 will help improve the battery life situation and level the playing field. However, we also suspect that the hardware manufacturers could be doing a lot more to improve battery life on their laptops. The closest we have come to matching the Minutes/Whr score of the MacBooks was with an ASUS N10JC netbook, which isn't even on the same continent in terms of performance. Apple is getting over six minutes per Whr, and most similarly equipped Vista notebooks are luck to come close to 3 min/Whr. Note that testing a MacBook with Vista using Boot Camp also cut the Apple battery life roughly in half.