Race Driver: GRID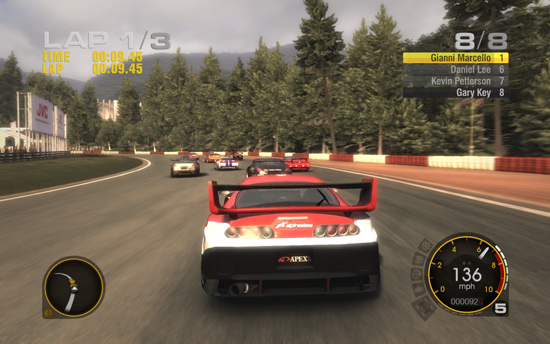 The more serious racing fans on the staff tend to end up at iRacing.com or playing a modified version of Grand Prix Legends for our racing simulation fix. However, there comes a time to throw out physics and just have some fun. In that case, GRID is the game we play. We turn up all the options, set AA to 2x, and let the rubber burn in a Race Day event. Our results are captured via FRAPS and we average three test runs for our final score.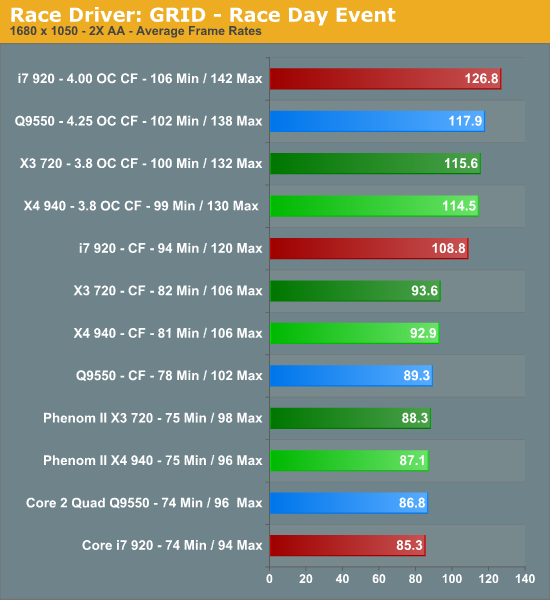 At 1680x1050 in single card mode, we have a surprise winner here with the 720BE placing first. Of course, all four platforms have very close scores, but the Phenom II X3 720BE get the trophy. The 720BE leads the X4 940 by less than a percent in our tests. We raised the Northbridge speed on the X4 940 from 1.8GHz to 2.0GHz and noticed almost identical results with the X3 720BE scores listed. Adding a second card for CrossFire operation improves average frame rates by 6% and minimum frame rates by 9% for the 720BE. Overclocking this little gem resulted in an 23% average improvement in average frame rates and 22% in minimum frame rates. Of course, the i7 platform offers excellent performance in CrossFire operation as indicated by the numbers. The Q9550 needs a 12% overclock advantage to surpass the Phenom II systems.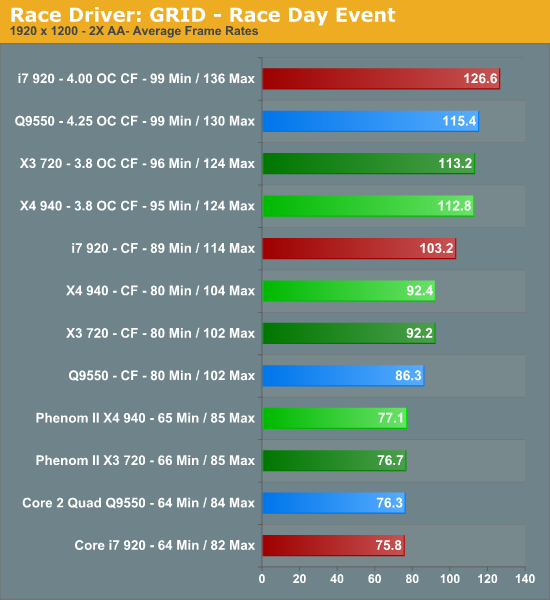 Turning the resolution up to 1920x1200 results in a similar pattern across platforms at 1680x1050. Our Phenom II systems trade places at this resolution in the single card and CrossFire results, although the scores are within our .05% margin of error. Spending an additional $199 for that second card will improve average frame rates by 20% and minimum frame rates by 14% for the 720BE. Spending $50 for a good air cooler and overclocking the 720BE resulted in a 23% improvement in average frame rates and 20% in minimum frame rates.
Once again, our game play experience indicates there is no difference between the four platforms at our particular settings. Although frame rates were higher with the i7 in CrossFire mode, there was no appreciable difference in game play quality. The X3 720BE is every bit the match of the its more expensive cousin, the X4 940, in this game.