Comparison: Efficiency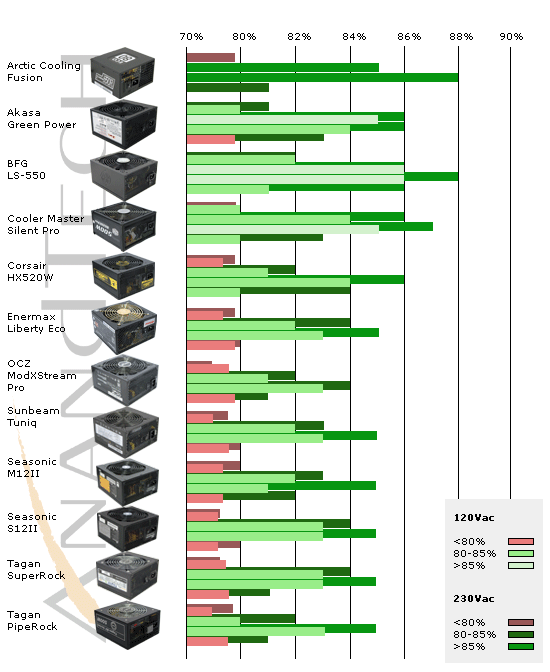 Note: The first column is 10% load, the second 20%, the third 50%, and the last column represents 100% load.
The efficiency charts make one thing very clear: Seasonic and Enhance deliver kickass efficiency with their products. Even though 85% efficiency isn't that great anymore, Seasonic still has good overall efficiency at different loads. Seasonic will be the first company to ship three 80 Plus Gold certified power supplies by the way, which we should see in the very near future. We have already seen test reports and this looks to be a good year for Seasonic since no other companies appear to be on track.
Getting back to this roundup, Arctic Cooling, Akasa, BFG, and Cooler Master are at the top of the charts -- Arctic Cooling and BFG reach a tremendous 88% efficiency at 50% load! Note that we received a 230VAC-only PSU from Arctic Cooling, since we had that unit for a while already and they weren't shipping the multiple input version yet. Looking at the 120VAC results, BFG provides the best efficiency in this roundup, followed by Akasa and Cooler Master.