It seems like ages ago when Intel released the P45 Express chipset. In fact it was just last June, but that is normally an eternity in the personal computer market. After our first look at the chipset, we were not convinced that it could be successful. The P35 Express chipset was mature, less expensive, and a very popular choice for the first time buyer and enthusiast alike. Anyone needing high-end performance for a CrossFire setup had numerous options to choose from with the X38/X48 based motherboards. What seemed like the final nail in the coffin is that board pricing was closer to X38 territory than the P35 and initial performance numbers just did not wow anyone.
Beyond that, it seemed like the upcoming Nehalem platform was getting more press than the P45. Most of us were wondering out loud why anyone would invest in a brand new chipset based on a previous generation processor when the mother of all platforms was getting ready to launch. Not to mention, except for CrossFire capabilities upgraded from x16/x4 on the P35 to a performance friendly x8/x8 setup, what did the P45 really offer?
As it turns out, this chipset had a lot to offer. Of course, the stars seemed to align perfectly for its march to success. After a few rough patches with early BIOS releases, this chipset became the favorite upgrade choice for the enthusiast due to its incredible front-side bus and memory overclocking capabilities. AMD released two of the best value/performance video cards in recent memory with the HD 4870 / HD 4850 video cards and all of a sudden you could run CrossFire on a mainstream board without spending a fortune. Intel pushed this chipset heavily and the motherboard manufacturers started pumping out various models from the low-end $80 market up to the high-end $250 sector. The P45 was everywhere and available at almost any price point - we last counted about 100 different models available from just about every manufacturer in the business.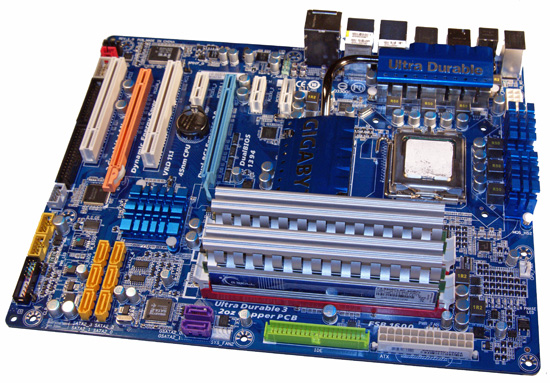 It's hard not to get lost in the sea of available models when searching the web sites at ASUS, MSI, Gigabyte, and others. Thanks to aggressive price cuts on the Core 2 series of processors and with the Core i7 platform regulated to the high-end market until the end of this year, the opportunity for the P45's star to shine brightly continues for the immediate future. Based on recent information from Intel we can expect to see the P45 around until 2011.
One of the industry's leading supporters of the P45 chipset is Gigabyte. At last count, Gigabyte had fifteen P45 motherboards in their lineup. Gigabyte has already released six new P45 second-generation products based on their Ultra Durable 3 technology. We will be taking an in-depth look at the Ultra Durable 3 technology in separate article shortly. In the meantime, today we are reviewing one of the top models in the Ultra Durable 3 lineup, the GA-EP45-UD3P.
This particular board offers CrossFire support in dual x8 mode, native support for DDR2-1366 memory speeds, a revised cooling system, dual PCI-E Gigabit LAN controllers with teaming, and Dolby Home Theater support via the Realtek ALC889a. Add in an integrated TPM data encryption chip, eight SATA ports, Dynamic Energy Saver power management system, and IEEE 1394a support plus several other features and you just bought the kitchen sink with this board. Speaking of buying, the current retail pricing is around $135 and a $20 rebate is available, meaning there is a lot of value packed into this blue wonder board.
Did the Gigabyte GA-EP45-UD3P impress us? Let's find out now.