Inside PC Power & Cooling
PC Power showed us their facility, which contains of a huge R&D center, an area where they customize power supplies, an RMA area where power supplies are also refurbished, and the warehouse. Several electricians in the RMA area are testing power supplies that came back for whatever reason. The larger area is being used to customize power supplies. PC Power & Cooling allows end-users to get additional cable harnesses or connectors, and if you choose this option it will be done by hand in this area for each customer. You may recall our review of the Turbo Cool 860 that came with six PCI-E connectors and extra SATA connectors. That wasn't something PC Power did specifically for AnandTech; it's a service they offer to any customer (for a price). PC Power has many commercial customers and most of them require customization, which is done here as well.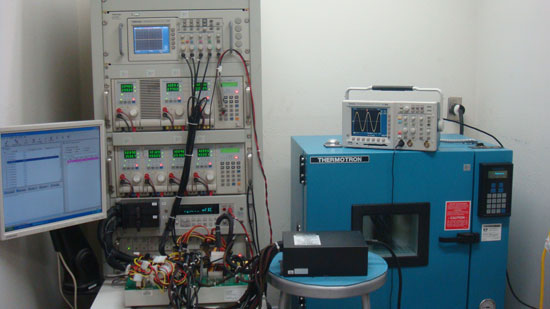 A small room contains another Chroma 8000 ATE together with a small thermal chamber. PC Power is using this Chroma to perform the R&D work and tests on upcoming power supplies. We saw quite a few power supplies from different vendors that made their way down here for evaluation. We tested a few power supplies along with the new UPC PC Power showed in Las Vegas. Pictured above is the sine wave on the scope from when we were testing the UPC waveforms.