Imagination Technologies: Atom-based Netbooks With Poulsbo
I met up with Imagination Technologies, makers of the PowerVR SGX graphics core that's used in Intel's Poulsbo chipset - the ideal companion for the Atom processor. Most netbooks to date have shipped with Intel's 945G chipset, but we're finally starting to see models come out with Poulsbo. The biggest advantages to Poulsbo are much lower power consumption as well as hardware video decode acceleration for all of the major codecs (MPEG-2, VC-1, H.264).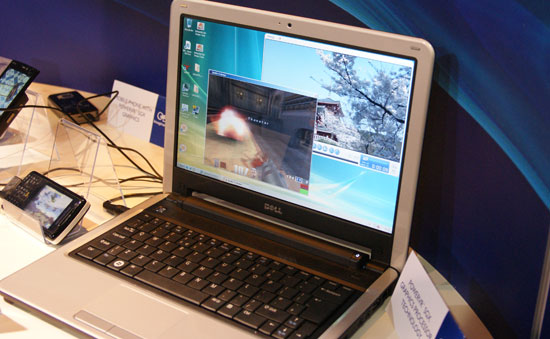 Quake III Arena + Cyberlink PowerDVD playing Blu-ray quality content, all on a netbook
I got a quick demo of a Dell Inspiron Mini 12 decoding a 1080p H.264 Blu-ray rip (20 - 35Mbps) while running through a Quake III timedemo. The video clip didn't drop any frames and the Quake III demo ran at above 30 fps. The engineers on hand indicated that a real concern in these sorts of situations isn't the GPU horsepower, the PowerVR SGX core can easily handle the two tasks, but rather memory bandwidth. Poulsbo only supports a single channel of DDR2-533 memory, barely enough bandwidth by today's standards.
The Imagination Technologies staff also ran a dual stream video decode demo where they had a Atom/Poulsbo netbook playing one 8Mbps H.264 video and a 1080p H.264 video on an external display, simultaneously. Again, memory bandwidth is the only limitation here - the Atom never peaked above 29% CPU utilization.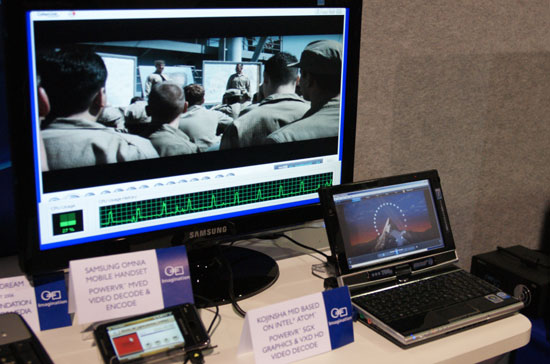 Imagination Technologies also announced the PowerVR SGX543 at the show, a much faster (up to 40%) graphics core than what's in Poulsbo. The SGX543 will probably show up in designs in about 2 years.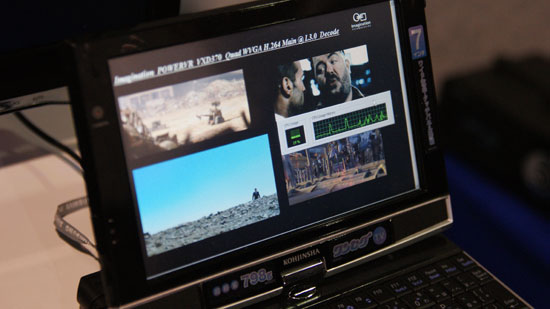 Four H.264 streams from Apple's Trailers website, all playing at the same time, without so much as a hiccup on Atom/Poulso