Acoustic Noise Comparison
Our acoustic chart shows four different levels; the first one represents 10% load, the second 20% load, the third 50% load, and the fourth 100% load. We know most of our readers like to see more information in the first half of loading, which is why we chose to show these three levels of loading. Unfortunately, we cannot provide comparisons at specific loads each (i.e. 100W) because in a chart like this with 20 power supplies it becomes confusing and senseless. The color differences indicate relative noise levels: light green means barely audible, darker green will not be audible once the power supply is inside of a chassis along with normal graphics card and CPU coolers, and red means the noise is clearly audible -- in our chart this is from 25dB(A) onwards. The more green a power supply has, the less audible. We use percentages to compare the power supplies which is necessary since most units have a different power output. Loading charts like we use to include in separated reviews makes it impossible to compare many units in one graphic.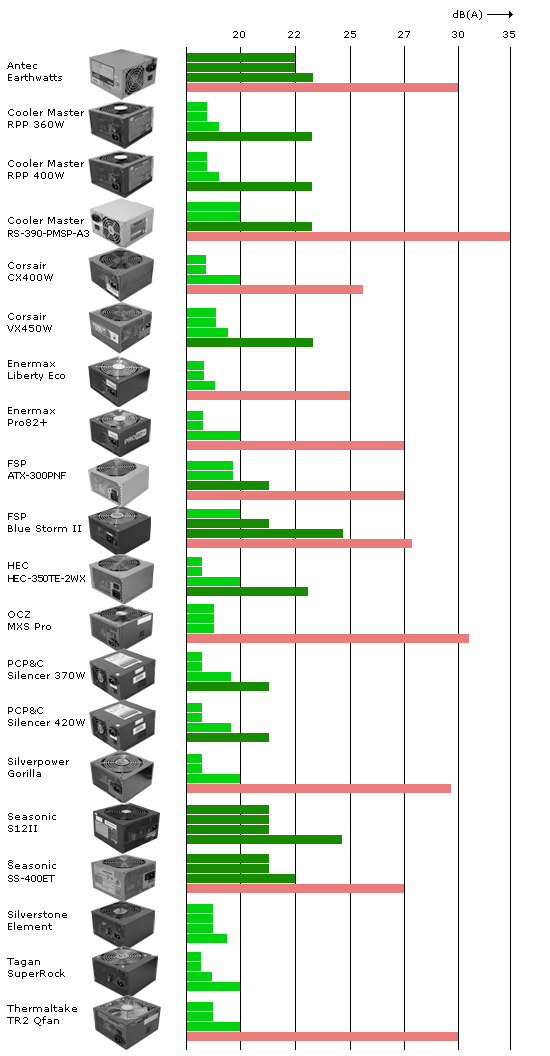 Of course, we need to mention at this point again that a quiet power supply will not cool well with higher loadings and ambient temperatures. Noisier power supplies typically mean better cooling for the components. You need to decide for yourself what the most important factor is, but since most people choose PSUs that are far larger than necessary they will not reach anything near the full load results.
Quiet units are quickly visible. First we have the brand new Cooler Master power supplies, then the Corsair VX450W, HEC, the Silencers, Seasonic's S12II, the Silverstone Element, and Tagan's SuperRock. From these very quiet units, both Enhance built power supplies (Silverstone Element and Tagan SuperRock) stick out from the masses. Both are less than 20dB(A) acoustic noise at all times and are therefore "silent" -- or at least close enough that it shouldn't matter.