Introduction
We first received a sample of the Revolution 85+ about two months ago. Enermax was going to launch the product much earlier, but a sudden change in plans created some delays. During the past couple weeks, we've had a chance to play around with final hardware, which has been quite fun. There are some new innovations inside this PSU, and in fact the inside looks totally different from what we've seen in the past. Enermax now includes DC-to-DC circuitry to create all of the lower voltage rails, something normally done with a transformer. DC-to-DC technology is nothing new since we've already seen it in several other units, but the approach Enermax took isn't quite the same as other vendors, which we will see later. Note that some of the images for this article come from Enermax marketing, including photos of the packaging material since that wasn't ready in time for this review.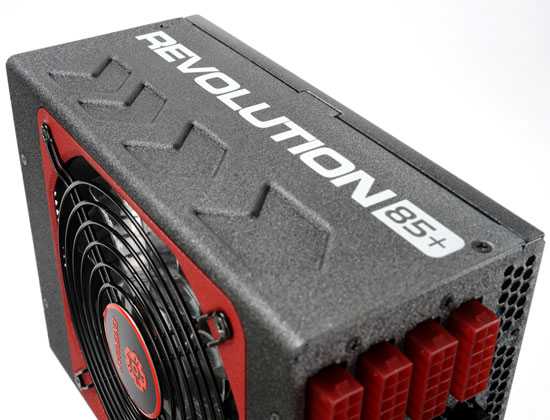 The appearance of our first sample was similar to previous tested models like the Infiniti or Galaxy. In fact, this power supply was originally going to be branded Galaxy 2 before Enermax chose the Revolution moniker. The original came in a gunmetal color with a golden fan-grille installed over the huge 135mm fan; all of that changed with the latest version, which will finally hit the market.
In typical Enermax fashion, the company equipped this power supply with a massive modular cabling system that can satisfy pretty much any need. Some critics will say that modular cables can cause problems with high-performance power supplies, but during testing Enermax still manages to reach very high efficiency with stable voltages.
The Revolution 85+ series comes in four different wattages: 850W, 950W, 1050W, and 1250W -- although the last will only be available for 230VAC (i.e. Europe). Today we will be looking at the 1050W model, the ERV1050EWT. The feature list is impressive, with six 12V rails, no-load operation (which will be important for future hybrid power GPUs), power saving modes for upcoming CPUs, high efficiency, and all outputs rated at 50°C.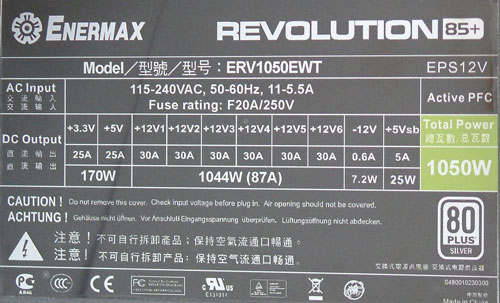 The six 12V rails are each rated at 30 amps, although Enermax has almost certainly set the OCP a little higher, i.e. 35 amps. There is more than enough power to connect the most demanding graphics cards, a highly overclocked processor, plenty of hard drives, and still have room to spare. 12V1 delivers power to the 24-pin ATX connector; 12V2 powers both the 4/8-pin and 8-pin EPS connectors; 12V3 is for the first and second graphics card connectors; 12V4 handles the first 12-pin socket and peripheral sockets 1, 2, and 3; 12V5 gets the second and third 12-pin sockets; and last, 12V6 is for the fourth 12-pin socket and the remaining peripherals. The distribution is very good and nobody should experience any overloads with today's hardware. The 3.3V and 5V are both rated at only 25A, although this is still more than sufficient for modern systems. The standby 5V rail is stated at 5A, which is massive compared to many other power supplies, but it's necessary in order to comply with the EPS12V regulations in version 2.92.