The unnamed prosumer DSLR Olympus was showing as a prototype at Photokina was announced today as the E-30 DSLR. The E-30 fills a large void in the Olympus line between the $649 E520 kit and the $1699 Pro-oriented E-3.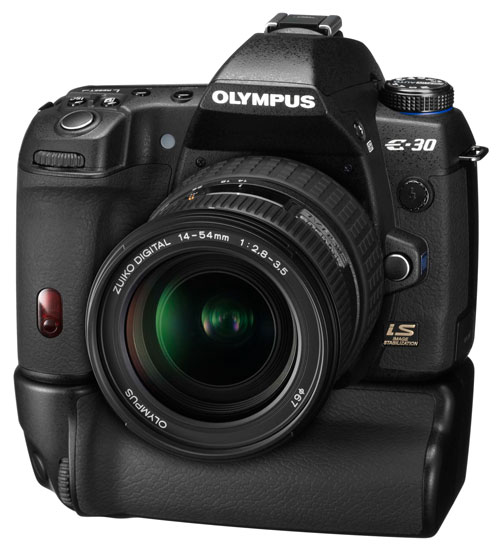 Everyone who wondered when Olympus would migrate their fast 11 dual cross-point AF module to a consumer grade camera finally get that choice in the E-30. Olympus even claims AF speed just as fast as the E-3 when the E-30 is used with Olympus SWD lenses. Also featured is a 98% optical viewfinder with a real pentaprism, significantly upgraded from the pentamirror of the E-520/E-420.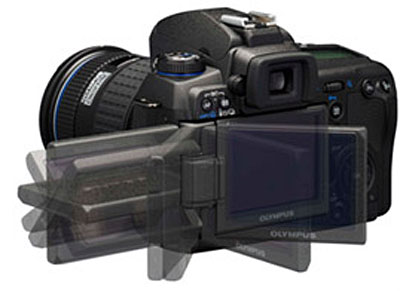 The very useful tilt-and-swivel LCD is also migrated from the E-3 and increased in size to 2.7 inches. Olympus specifies the new LCD as 100% view in Live View mode with magnification up to 10X for fine focusing. Live View Auto Focus is also claimed to be extremely fast, which would mean this Olympus-developed feature is finally evolving into a truly useful shooting mode on the DSLR.
With the new 12.3 megapixel Live MOS sensor the E-30 will be the highest resolution DSLR in the Olympus line-up. It appears the sensor is the same used in the Panasonic G1 interchangeable lens digital that uses Live View mode for all focusing. Panansonic and Olympus claim AF speeds in Live View with the new sensor are the fastest available in any contrast-detect AF system. The speed appears fast enough to make Live View a useful shooting mode instead of just a check-list feature as it is on most current DSLR cameras.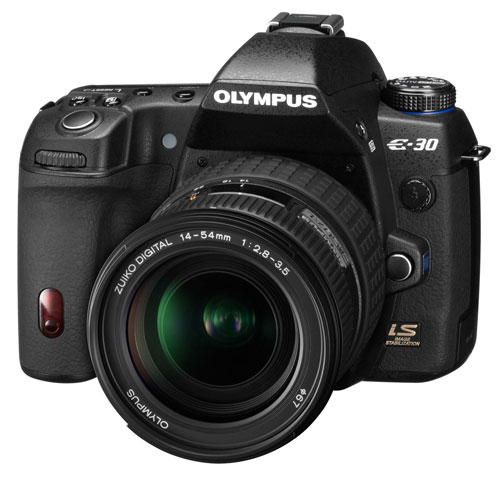 Unique features of the E-30 include multiple-exposure capability, a Digital Leveler that will be particularly useful for architectural photography, and art filters for getting creative with the image. Image Stabilization is built into the body and it is an auto-switching two-plane system that is said to provide up to 5 stops improvement in hand-holding in low light. The E-30 also features auto-sensor cleaning pioneered by Olympus.
The E-30 will ship in January 2009 as a body only at a suggested retail price of $1299. Also shipping in January is the new 14-54mm f/2.8-33.5 II lens that supports the fast contras detect Live View AF. Fast Live View AF is also supported with 25mm f2.8 pancake lens, 14-42mm f3.5-5.6, 40-150mm f4.0-5.6, and 9-18mm f4.0-5.6.