Two GPUs
While the MacBook relies on the integrated GeForce 9400M, the MacBook Pro includes a discrete GPU as well (NVIDIA calls this a dGPU and the integrated one the mGPU): a GeForce 9600M. The 9600M features 32 SPs up from 16 in the 9400M, giving it more shader power and it's got its own dedicated frame buffer off of a 128-bit memory bus. The dedicated frame buffer is quite possibly the most important but the usefulness here is pretty much limited to games (which are mostly going to be Windows-only) and the high end professional applications that are GPU accelerated.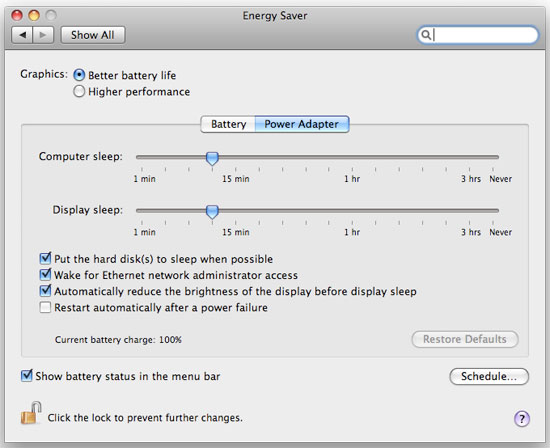 Apple gives you the option of switching between the two GPUs in the Energy Saver preference pane; unfortunately you have to log out and log back in to switch between the dGPU and mGPU. Other PC implementations of Hybrid Power (what NVIDIA calls the ability to turn off the dGPU and rely on just the mGPU) aren't so clumsy and can be done from within Windows, but for whatever reason Apple requires a logout/login.

The mGPU is preferable for battery life as you'll see in the section on battery life shortly.
Pulling an Apple out of a Hat: DisplayPort Standard
Apple has a tendency of doing this thing where it adopts new standards and gets rid of old ones well before their time is up. It's admirable and it allows Apple to pull off some neat tricks, but as Apple is a much larger manufacturer today than it was in the past we're starting to see examples of why companies like Dell don't take a similar approach.
Case in point is the video output on these two notebooks we're looking at today. Apple had a DVI output on its MacBook Pro but the connector itself was a little too big for the form factor changes that Apple wanted to implement. On the MacBook Air Apple used a mini DVI output, but on the new MacBook and MacBook Pro we have a mini DisplayPort connector.


The mini DisplayPort connector is to the left of the mic-input
Unfortunately only Apple uses mini DisplayPort on its recently introduced 24" display; Dell still uses the full sized DisplayPort connector on its monitors - not to mention the many more that use standard DVI or VGA.
Apple's solution is to offer mini-DP to DVI, DVI, or DL-DVI adapters, which is acceptable; unfortunately neither notebook ships with a single adapter. In the long term this will hopefully be a non-issue, but until then be prepared to spend another $30 or $100 (dual-link DVI) to support an external display.