More Gameplay
The tracks in PURE were designed with real locations in mind. During the series of events that make up the game's campaign and World Tour modes, players will face the most intuitive off-road terrain in a video game to date, including sand dunes, mountainous mines, and tropical highlands, all named for the landmarks or geographical areas they resemble. PURE features a whopping 48 multi-route tracks sprawled out among seven of these beautiful locations. While it's often tough to stop and smell the roses in racing games, the development team made sure that players could appreciate the artistry put into the game's environments while in motion. In fact, many of the big jumps in the game take you high enough into the air to survey your surroundings with impressive draw distances to say the very least. Players may find themselves at a loss for pulling stunts while admiring the bird's-eye view.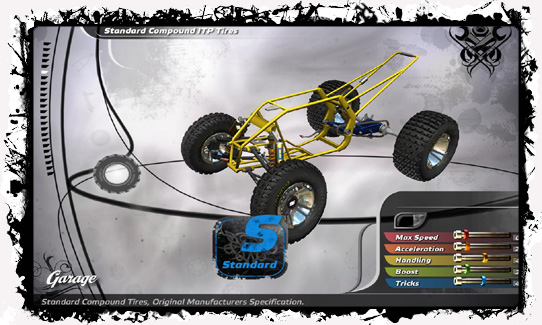 There are three event types in PURE, the first being freestyle which focuses on stringing together trick combos. The second event type is sprint. In sprint events, the spotlight is on players' ability to handle their ATV on some pretty tough courses. Then of course, there are straightforward racing events with en equal focus on speed and stunts, as well as tactics that will get you across the finish line first. But before you begin your first race, it's off to the garage to build your new racing machine.
In the garage, players will build their ATVs from the ground up, selecting and then customizing every part one would expect to utilize while building a new ride, and then some. The developers made sure the garage provides a meticulous experience that offers fulfillment to those who enjoy a high level of involvement in their games. Players will begin by selecting a frame for their new ATV, followed by shocks, wheels, tires, handlebars, brakes, engine, and body style. The garage even includes parts that may be more familiar to experienced ATV enthusiasts like nerf bars and swingarms, all of which can be customized by choosing from an array of colors.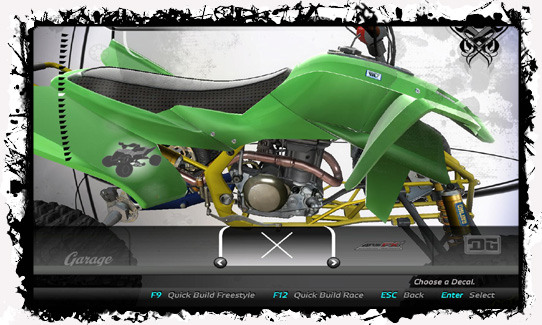 Once satisfied with your creation, you'll begin by competing in the first of the campaign's ten events that require multiple races to complete. With each win, upgrades in the form of higher quality replacement parts become available, thus prompting players to frequent the garage and add parts that will make their ATV go "Woo Woooo!" Customizing your vehicle in PURE is a lot of fun and is sure to bring out the Bubb Rubb in everyone.