What about Noise?
Efficiency isn't the only aspect of power supply performance to consider. Noise levels are also important. Sticking with our previous example of the Cooler Master UCP 900W, we get the following chart: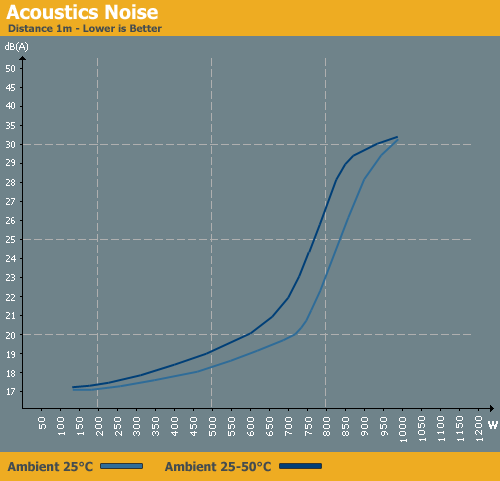 All three of our test systems allow this power supply to remain virtually silent. Even with our high-end system, power supply noise should not be much of a concern. In order to achieve a power draw of 550W, you will need to have a lot of power-hungry components, and these will almost certainly drown out any noise created by this particular power supply. Naturally, this is one of the benefits of choosing a power supply rated much higher than what you actually need: it will always stay virtually silent.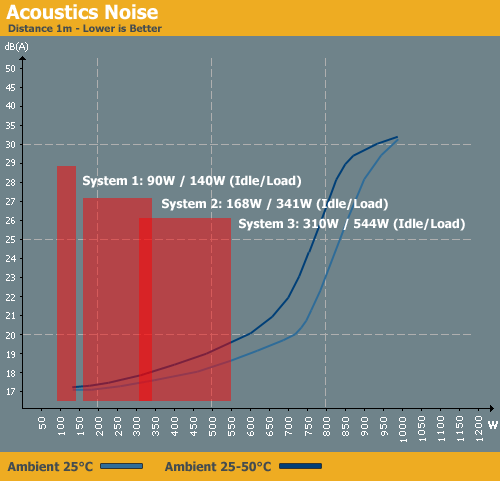 Any of our three sample systems will allow this power supply to run at less than 20 dB(A). Not surprisingly, this is the sort of comment we see on forums. "I have PSU XYZ, and I never hear it when my system is running!" That might be true, but without knowing the system components and operating load, such a statement provides the very little useful information -- especially when discussing an 800W or larger PSU. We prefer to push power supplies to their limits to see what actually happens when you begin to tax them. Midrange and high-end systems almost always have plenty of other fans that will drown out such a power supply.