ATI vs. NVIDIA Once Again: 4670 vs 9500 GT & 9600 GSO
Now we get into the real competition. We're looking at AMD's newest mainstream card vs. NVIDIA's two latest entries into the sub $100 market. The 9600 GSO is just an 8800 GS. Though we didn't compare it here, the 9600 GT is priced right around $100 and offers performance a little better than the 9600 GSO. While we are comparing with the 9500 GT here, it will become quickly apparent that the card doesn't even come close to competing with the 4670.
For our medium quality Crysis test, the 4670 seems framelimited at about 60 here, while the 9600 GSO seems to push past the 60 fps barrier. At 1280x1024 and above, the 4670 leads the pack by a small margin in this benchmark.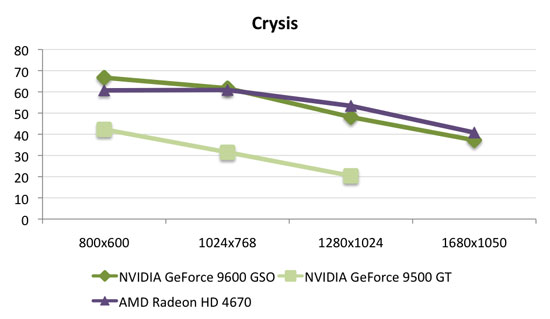 Enemy Territory with 4xAA enabled shows a huge advantage for the 4670 over NVIDIA's more expensive 9600 GSO. Even so, the NVIDIA cards remain playable at 1280x1024, so the practical advantage is a little decreased until we get to 1680x1050.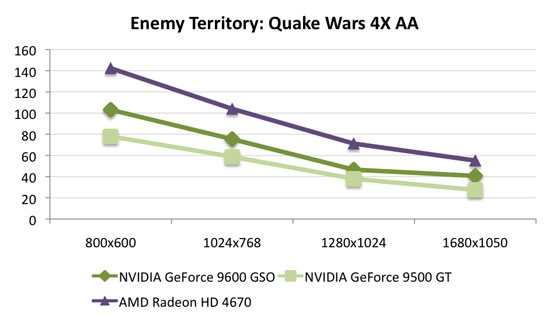 Once again Oblivion offers us a role reversal when AA is enabled. Without AA, the 4670 falls behind above 1024x768, while it pulls a little ahead when 4xAA is enabled. Again, the 4670 and 9600 GSO are playable at 1280x1024 with AA, and might both be passable at 1680x1050 as well (Oblivion is a game that still offers a good experience at anything above 25 fps).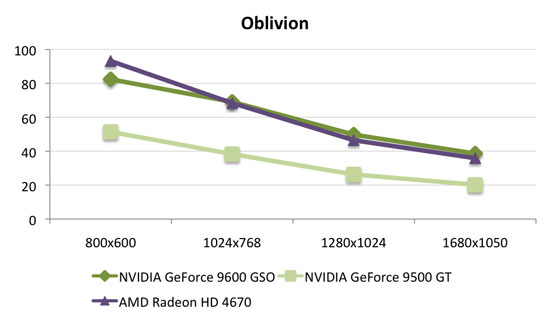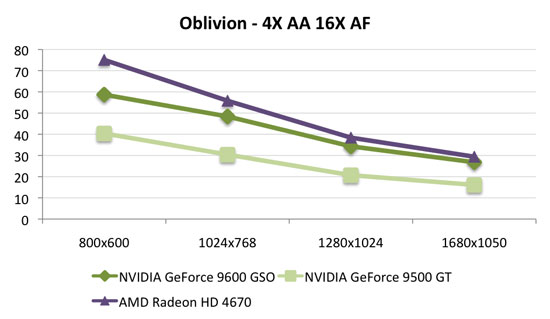 The 9600 GSO maintains a steady ~10% lead over the 4670 in Age of Conan. This is quite an interesting benchmark for NVIDIA to lead considering how handily they are clobbered at higher price points by the 4850 and 4870.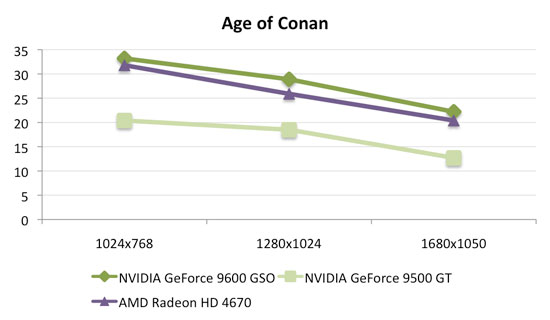 Performance in GRID is nearly identical between the 4670 and 9600 GSO.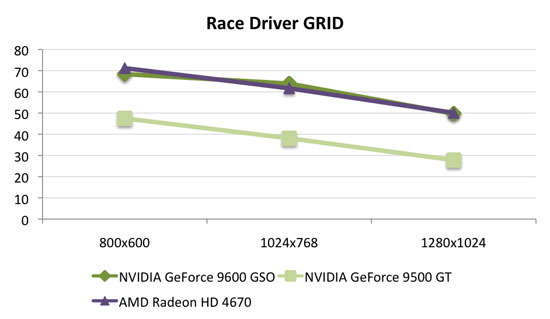 Throw AA in there and we see a little separation trying to happen, but the 9600 GSO actually does keep up at lower resolutions with AA.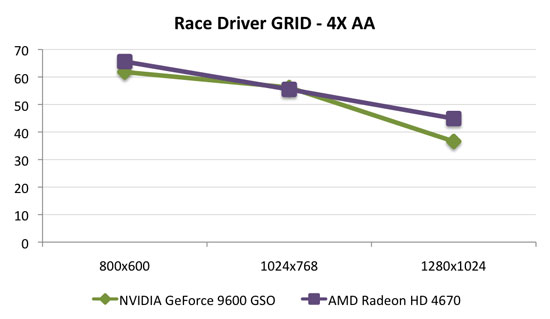 For The Witcher, while the 4670 leads at lower resolutions, performance converges at higher res. Both are playable at 1280x1024. We wanted to test AA in this one, but it is sort of difficult as the game limits the ability to enable AA based on framebuffer sizes; thus we couldn't enable 4xAA past 1024x768 on the 9600 GSO.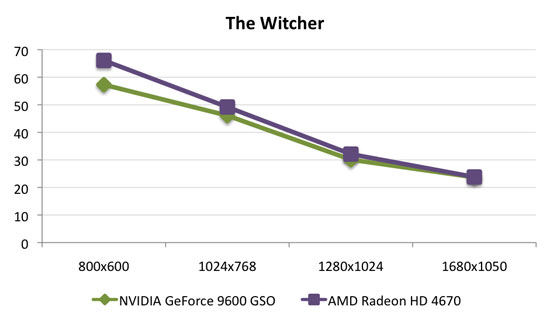 When we hit high quality Crysis, the 4670 leads.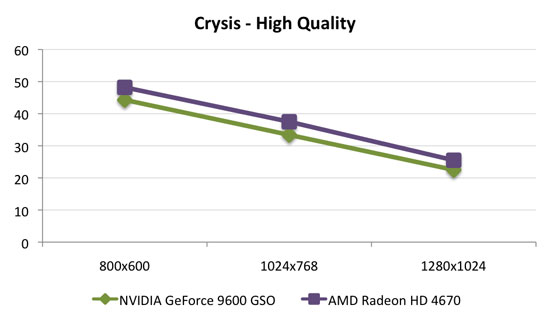 And the lead just gets bigger if we look at medium quality (high quality shaders) with 4xAA enabled. The 4670 is borderline playable in this situation at 1280x1024 while the 9600 GSO falls way short.