The Future of Larrabee: The Many Core Era
I keep going back to this slide because it really tells us where Intel sees its architectures going: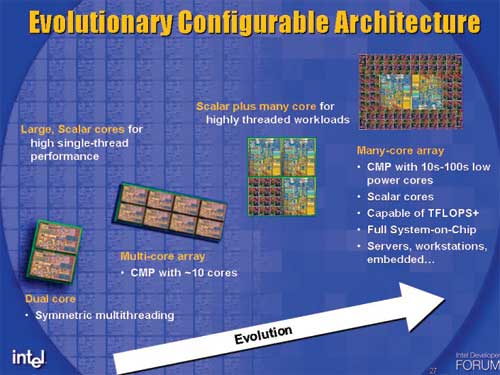 Today we're in the era of the multi-core array. Next year, Nehalem will bring us 8-cores on a single chip and it's conceivable that we'll see 10 and 12 core versions in the two years following it. Larrabee isn't actually on this chart, it remains separate until we hit the heterogeneous multi-threaded cores (the last two items on the evolutionary path).
It looks like future Intel desktop chips will be a mixture of these large Nehalem-like cores surrounded by tons of little Larrabee-like cores. Your future CPUs will be capable of handling whatever is thrown at them, whether that is traditional single-threaded desktop applications, 3D games, physics or other highly parallelizable workloads. It also paints an interesting picture of the future - with proper OS support, all you'd need for a gaming system would be a single Larrabee, you wouldn't need a traditional x86 CPU.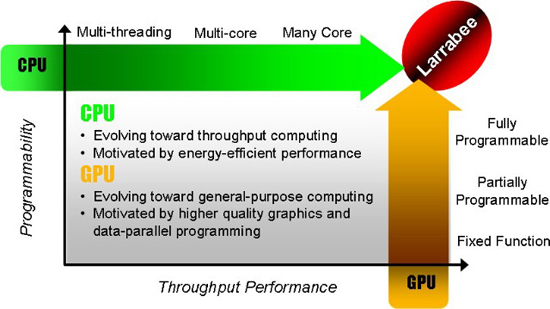 This future is a long time from now, but just as Pentium M eventually evolved into the future of desktop microprocessors from Intel today, keep an eye on Larrabee, because in 5 years it could be behind what you're running everything on.
Changing the Way GPUs Are Launched?
Here's an interesting thought. By the time Larrabee rolls out in 2009/2010, Intel's 45nm process will have been able to reach maturity. It's very possible that Intel could launch Larrabee much like it does its CPUs, with many SKUs covering a broad range of market segments. Intel could decide to launch $199 all the way up to $999 Larrabee parts, instead of the more traditional single GPU launch (perhaps with two SKUs) and waiting months before the technology trickles down to the mainstream.
Intel could take the GPU industry by storm and get Larrabee out into the wild quicker if it launched top to bottom, akin to how its CPU introductions work.