The Real Question: Is 3G Worth it?
I'm pretty sure that I can answer the "should I upgrade my iPhone?" question in this page alone, so let's practice being succinct!
Without a doubt 3G is a lot faster than Edge on the iPhone, but it's worth setting proper expectations; here are the raw numbers: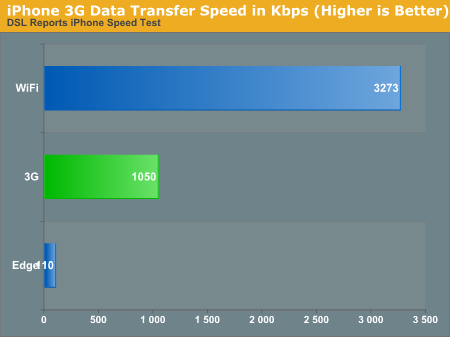 Edge will download at around 110kbps, 1Mbps for 3G and 3Mbps for WiFi. Fast enough for web browsing, right? Wrong.
Let's look at some real world tests: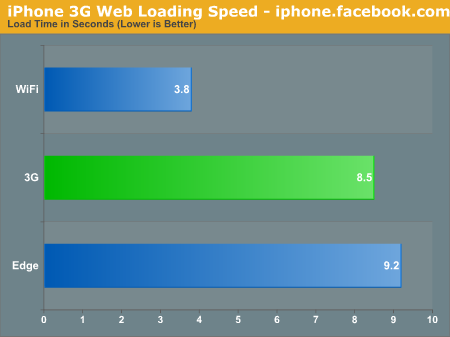 I loaded the iPhone optimized Facebook home page, on Edge it took 9.2 seconds, 8.5 seconds on 3G and 3.8 seconds on WiFi. What's interesting is that the initial connection to the server seems to take much longer on both Edge/3G than on WiFi, indicating that perhaps the DNS server AT&T is using is the reason why we're so slow here.
Next up was Digg's iPhone optimized site: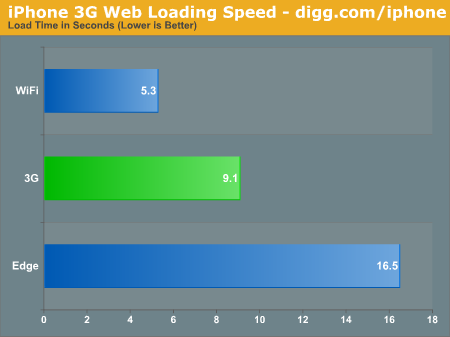 Here 3G offers a more significant performance advantage, but it still takes around twice as long to render a page as WiFi. Again, I suspect that the problem here is the initial connection to the server (I'm testing 3G battery life now but once that's done I'll do some DNS performance tests).
Finally we have a image heavy site, a little hardware website called AnandTech: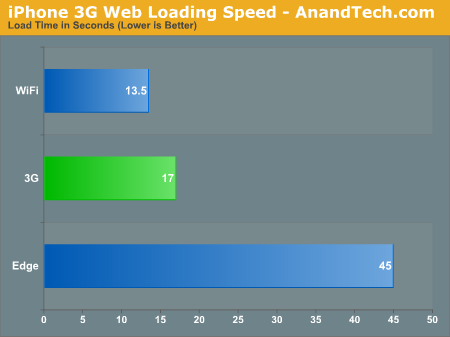 With an image heavy website we're bound more by download speed than by latency, so while Edge took 45 seconds to load, 3G only took 17 seconds, and WiFi barely had an advantage at 13.5 seconds.
If the majority of sites you use on your iPhone are small, text heavy sites, then you honestly won't notice a huge difference between Edge and 3G, and it won't feel like WiFi anywhere to you. However, if you use sites with more images and content to download, 3G will feel more like WiFi and Edge just won't cut it.
Did that help?
Final Words
That's it for now, I'm running tests on the iPhone 3G as I publish this so expect a much more thorough look at the phone shortly.