Power Consumption
For our power consumption numbers we only used a subset of CPUs that we actually had (rather than underclocking CPUs to simulate others). First off, we'll look at a comparison of the important CPU datapoints. :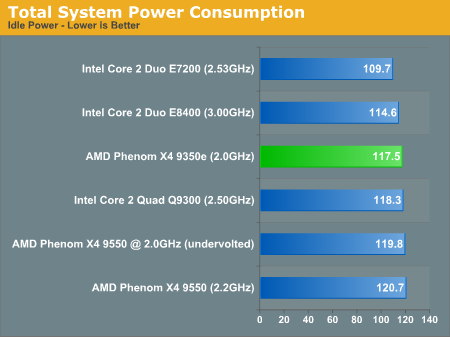 With the exception of the Q9300, Intel's competing chips draw less power at idle than even the new energy efficient AMD chips. Cool'n'Quiet was enabled here despite the performance impacts we mentioned earlier.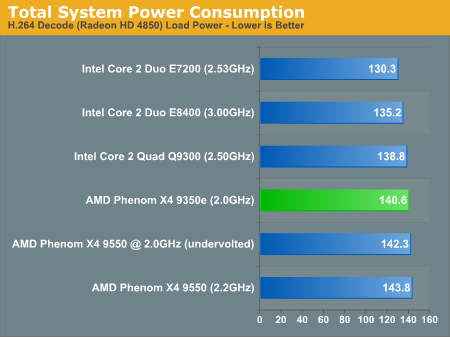 Under load we see the gap widen - Intel's 45nm process simply gives it the edge in power consumption. Note that the CPU is only being used to decrypt and stream data to the GPU here while we're watching a H.264 encoded Blu-ray (The Simpsons).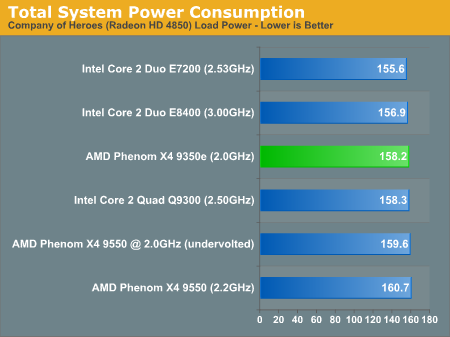 The trend does mostly continue in a more CPU-bound test. The chips are all fairly close in power consumption but AMD doesn't have the advantage here.
The next set of tests is particularly interesting as we are comparing Intel's top integrated graphics platform (G35) to AMD's (780G). No external graphics card was used, this is strictly an IGP comparison: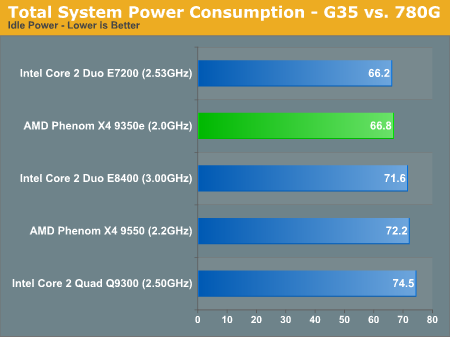 AMD does a bit better here at idle, but look at what happens while we watch a Blu-ray: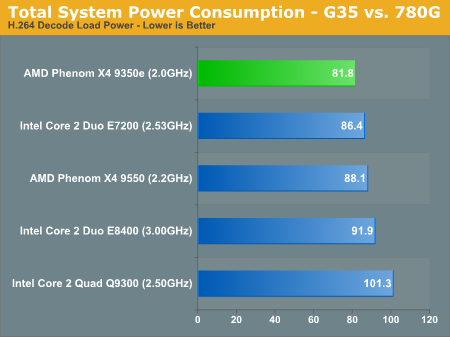 Intel's G35 doesn't have any H.264 decode acceleration, meaning the CPU is forced to handle the entire decode process - thus Phenom gets a bit of a break. It is funny that despite handling all of the Blu-ray decoding, the E7200 actually pulls less power than the Phenom X4 9550 with hardware acceleration.