8-channel LPCM over HDMI
You may have heard that I've recently become somewhat infatuated with HTPCs. I've been hammering on all of the AnandTech staffers to start looking at the needs of HTPC enthusiasts, and I've personally been on a bit of a quest to find the perfect HTPC components.
Blu-ray (and HD-DVD) both support Dolby TrueHD and DTS-HD audio encoding, which offer discrete 8-channel audio output. The problem is that there's currently no way to send a TrueHD or DTS-HD encoded stream from a PC over HDMI to a receiver, the stream must be decoded on the PC. Cyberlink's PowerDVD will decode these high definition audio formats just as well as any receiver into 8-channel LPCM audio, but you need support for sending 8-channel LPCM over HDMI.
Most graphics cards that implement HDMI simply pass SPDIF from the motherboard's audio codec over HDMI, which is unfortunately only enough for 2-channel LPCM or 6-channel encoded Dolby Digital/DTS audio. Chipsets with integrated graphics such as NVIDIA's GeForce 8200 and Intel's G35 will output 8-channel LPCM over HDMI, but AMD's 780G will not.
All of AMD's Radeon HD graphics cards have shipped with their own audio codec, but the Radeon HD 4800 series of cards finally adds support for 8-channel LPCM output over HDMI. This is a huge deal for HTPC enthusiasts because now you can output 8-channel audio over HDMI in a motherboard agnostic solution. We still don't have support for bitstreaming TrueHD/DTS-HD MA and most likely won't anytime this year from a GPU alone, but there are some other solutions in the works for 2008.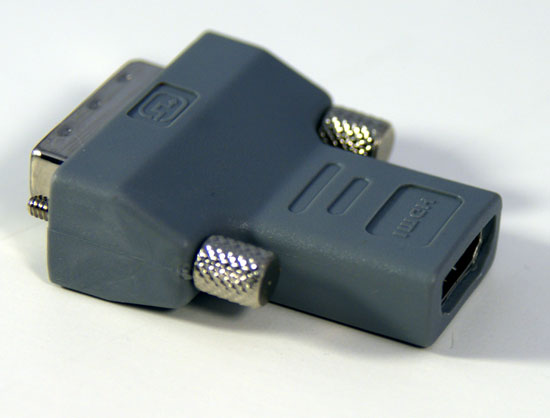 To use the 8-channel LPCM output simply configure your media player to decode all audio streams and output them as 8-channel audio. HDMI output is possible courtesy of a DVI-to-HDMI adapter bundled with the card; AMD sends audio data over the DVI interface which is then sent over HDMI using the adapter.