Nehalem's Media Encoding Performance
We had time to run two of our media encoding tests: the DivX 6.8 and x264 workloads.
DivX 6.8 with Xmpeg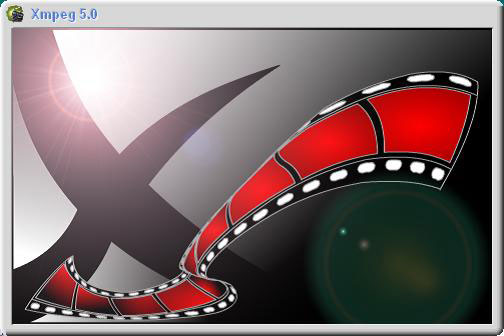 Our DivX test is the same one we've run in our regular CPU reviews, we're simply encoding a 1080p MPEG-2 file in DivX. We are using an unconstrained profile, encoding preset of 5 and enhanced multithreading is enabled.
The DivX test is an important one as it doesn't scale well at all beyond four threads, any performance advantage Nehalem has here is entirely due to microarchitectural improvements and not influenced by its ability to work on twice as many threads at once.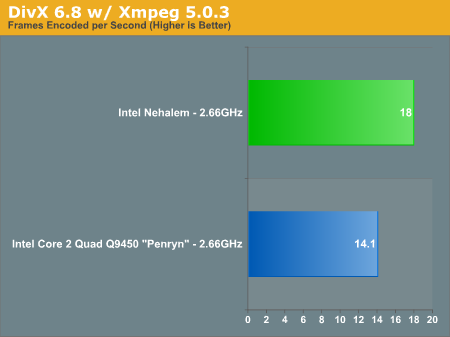 Clock for clock, Nehalem is nearly 28% faster than Penryn in our DivX test. Even better is when you put this performance in perspective: at 2.66GHz Nehalem is faster than the fastest Penryn available today the Core 2 Extreme QX9770 running at 3.2GHz. At 3.2GHz, Nehalem will be fast. The improvements in performance here are entirely due to the faster L2 cache and micro-architectural gains; being able to have more micro-ops in flight and improved unaligned cache accesses give us a significant improvement in video encoding performance.
The last time we saw these sorts of performance gains was when Conroe first launched.
x264 Encoding with AutoMKV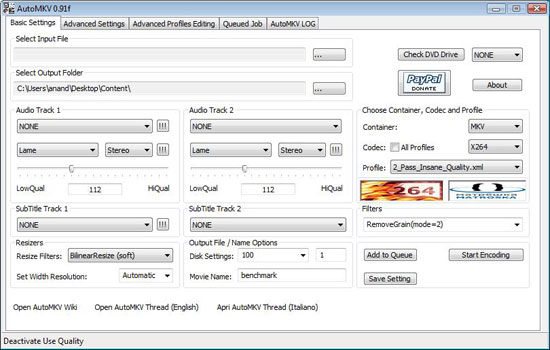 Using AutoMKV we compress the same source file we used in our WME test down to 100MB, but with the x264 codec. We used the 2_Pass_Insane_Quality profile: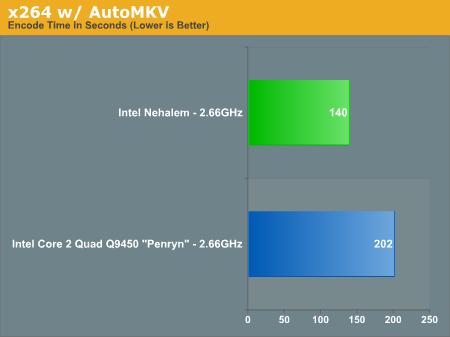 Encoding performance here went through the roof with Nehalem: a clock for clock boost of 44%. Once more, Nehalem at today's artificially limited, modest clock speed is already faster than any Penryn out today. What Intel did to AMD in 2006, it is doing to itself in 2008. Amazing.