The Socket
With an integrated memory controller, Intel needed a new pinout for Nehalem and the first version with three 64-bit DDR3 memory channels features a 1366-pin LGA interface: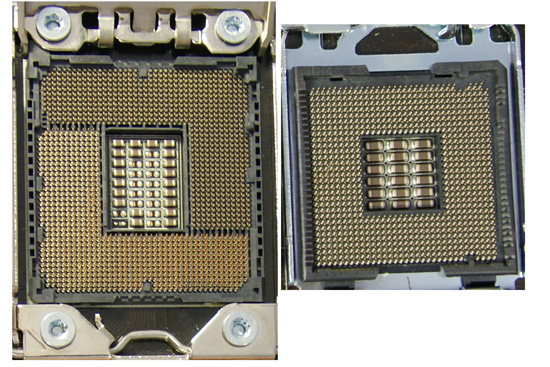 LGA-1366 (left) vs. LGA-775 (right)
The socket is noticeably bigger than LGA-775 as is the mounting area for heatsinks. You can't reuse LGA-775 heatsinks and instead must use a heatsink with mounting holes more spread apart. As far as we can tell, the same push-pin mounting mechanism from LGA-775 is present in Nehalem which is disappointing.
With a larger socket and more pins, the CPU itself is obviously bigger. Here's a shot of our Nehalem compared to a Core 2 Duo E8500: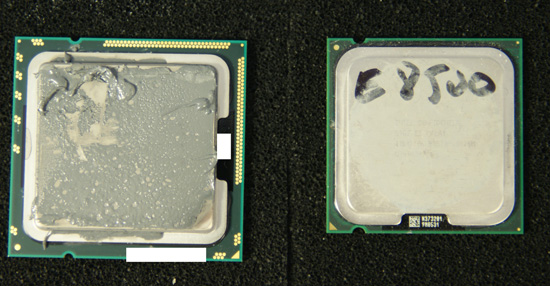 Nehalem (left) vs. Penryn (right)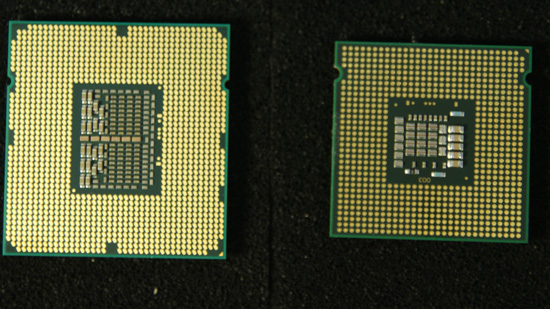 Nehalem (left) vs. Penryn (right)
Intel will obviously have dual-channel versions of Nehalem in the future, unfortunately it looks like they will use a smaller socket for mainstream versions of the chip (LGA-1160?). We won't have to deal with socket segmentation just yet and it is always possible that Intel will choose to stand behind a single socket for the majority of the desktop market, reserving LGA-1366 for a Skulltrail-like high end but the strategy is unclear at this point.