Our primary focus today is finding the maximum stable overclock of this memory on the P45 chipset, a chipset that will soon become Intel's mainstream part, replacing the excellent P35 in most market sectors. We have tested this memory on several different platforms ranging from the AMD 790FX to the Intel P35/X38/X48. Our advice for getting the maximum speed out of this kit is to use it on very capable boards such as the DFI LANParty UT P35 T2R, ASUS X48 Rampage Formula, or the Gigabyte GA-MA790FX-DQ6.
Honestly, our upcoming 4GB roundup will show that DDR2-800 at 4-4-4-12 or DDR2-1066 at 5-5-4-15 will offer nearly the same application performance as this memory or others at DDR2-1100+ speeds. A user buying a $170 kit like this can count on top benchmark results, absolute best application results by a few percent at most, or the comfort of knowing this memory kit is highly configurable from a timing and voltage selection from DDR2-800 up to DDR2-1200 on the right board. If that is not interesting, then a dozen or so 4GB DDR2-800 kits priced in the $75~$110 range will more than suffice for a majority of users.
We set up our P5Q Deluxe board based on how most enthusiasts would overclock the platform for maximum performance, yet still retain 24/7 stability. While we could have overclocked the CPU to 4.7GHz and the memory to DDR2-1225, the stability of the system was only good for that all-important CPU-Z or SuperPi 1M screenshot. Instead, we took the path of optimizing our system for best possible clocks and performance at reasonable voltages and temperatures. Our FSB rate of 480 was extremely stable with a CPU multiplier at 9x that ensured an attainable/attractive CPU speed and gave us several different options for memory dividers to reach the elusive DDR2-1200 goal with a 2x2GB kit.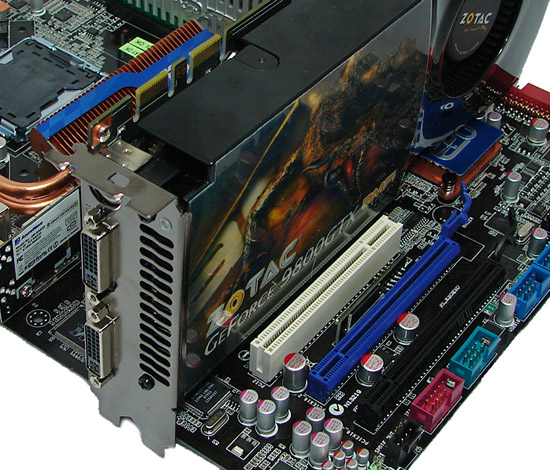 Zotac 9800GTX on the ASUS P5Q3 Deluxe DDR3 Motherboard...
Sure, we could have set up our system to show a maximum stable 540FSB but with a 6x multiplier that would have resulted in a ridiculous "overclock" setting. A 124MHz overclock and lightly loading the MCH in order to do a high FSB is not really overclocking in our opinion. We did not go to an extreme here either, as additional cooling and voltages would have put us out of reach of the target market for this memory. In the end, we settled on a 9x480FSB, 1.475 VCore for 4.32GHz, 2.08 VDimm for DDR2-1200, 5-5-5-15 base timings, Vmch at 1.38V, tRD set to 8 but with all phases pulled in for an effective tRD of 7, and the balance of board settings at Auto.
We found this particular BIOS was better suited to auto settings in most cases, especially with Clock Skews and GTL-Ref settings. ASUS still has some fine-tuning to do, but this chipset has made us wonder about the future of the X38/X48 chipsets at this point. Just to make things interesting, we clocked our Zotac 9800GTX to 801MHx GPU, 1200MHz Memory, and 2002MHz Shader clocks. Our initial benchmark results are just for sanity purposes today with 3DMark Vantage and Everest utilized. Our particular settings passed a variety of benchmarks from Crysis loops to PCMark Vantage loops to OCCT runs to encoding a couple of terabytes of movies to ensure stability over the course of several days.
One last item before we get to the obligatory screenshots: while we appreciated the product samples that OCZ sent us, our test results were with a retail kit purchased at Newegg. Our new testing methodology includes the random purchase of retail kits from various sources for audit procedures. This is not to imply or confirm any problems with OCZ and other suppliers; we just want to ensure the results we experience with retail product are the same as you will experience. However, just from the viewpoint of manufacturing variations, there will always be a difference in results, sometimes better and sometimes worse. In case you are wondering, our retail kit performed 4MHz higher than the sample kit.