The program works like this; any PC manufacturer looking to participate in the AMD GAME! program must meet these minimum requirements: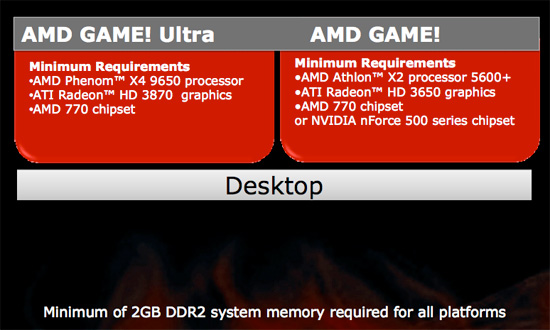 The GAME! Ultra logo actually has some pretty decent minimum requirements; a Phenom X4 9650, while not the fastest quad-core CPU available today, is more than sufficient for mainstream gaming. More importantly, the Radeon HD 3870 is a good enough GPU for the vast majority of titles today. The AMD 770 chipset choice is also a solid one.
The standard AMD GAME! logo unfortunately has more lax requirements; all you need to get this logo is an Athlon X2 5600+ and a Radeon HD 3650 as well as an AMD 770 or nForce 500 series chipset. A PC bearing the regular GAME! logo is better than your run of the mill desktop with integrated graphics, but honestly I'd prefer for there only to be one logo and for it to carry as much weight as the GAME! Ultra spec.
AMD comes up with these requirements by running a number of benchmarks internally with the following requirements:
1600 x 1200, default settings at above 30 fps (average frame rate) for AMD GAME! Ultra
1280 x 1024, default settings at above 30 fps (average frame rate) for AMD GAME!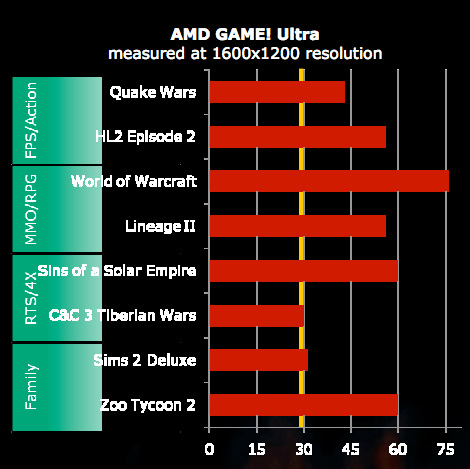 The titles AMD tests internally are Quake Wars, Half Life 2 Episode Two, World of Warcraft, Lineage II, Call of Duty 4, Sins of a Solar Empire, Command & Conquer 3, Sims 2 Deluxe and Zoo Tycoon 2. While AMD obviously runs even more benchmarks internally, these nine titles are the ones that it uses in determining the minimum hardware requirements for the GAME! and GAME! Ultra logos. The 30 fps limit isn't actually a hard limit since the vanilla AMD GAME! spec doesn't always meet it, but the goal is to get as close to it as possible.
The benchmarks themselves are manual runthroughs of the games. Each game is played for a total of 30 minutes, three times, with the average frame rates recorded and averaged. An individual tester is assigned to each game/benchmark to maintain some level of consistency. Since AMD isn't really comparing hardware here and just making sure the games meet a minimum level of experience, this relatively unscientific approach to testing works just fine. And if you're wondering, should the tester die in the middle of the demo run the results are thrown out and a new run is recorded.
AMD selects the titles for its GAME! logo program based on sales data/popularity across some of the most popular genres of PC games. The games list will be updated approximately twice a year, with the first update to the program coming in early 2009.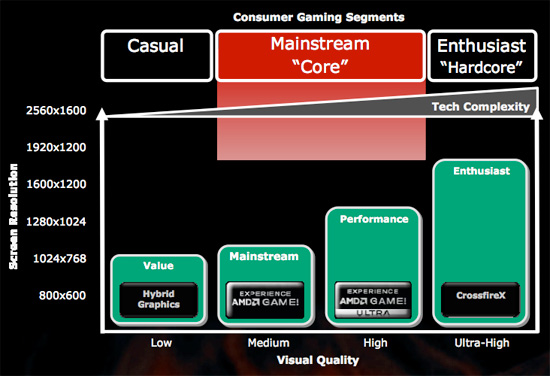 This combination of data ensures that, for the most part, people who buy PCs with the GAME! Ultra logo will get a good gaming experience on current titles, at default settings, at 1600 x 1200. Those who buy PCs with the regular GAME! logo should also be guaranteed a good experience, albeit at 1280 x 1024 instead.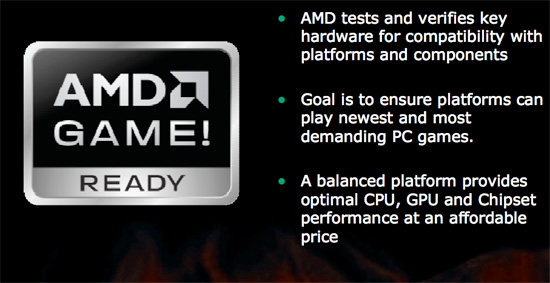 AMD will also be placing GAME! Ready logos on peripherals (e.g. mice, keyboards) that meet a separate set of standards. AMD has devised a list of requirements for these peripherals such as requiring that drivers install properly, docking stations for wireless mice and the ability to have up to 5 keys depressed at once on a gaming keyboard without triggering an error. These sorts of functional requirements are actually pretty impressive for AMD and it could mean that peripherals with the AMD GAME! Ready logo are actually a cut above the average.