Introduction
Not too long ago, we tested a 600W power supply from Xigmatek, and Xigmatek wanted us to look at one of their higher end models as well. As there is no need for a 1500W power supply we passed on their most powerful model and went with the 1200 and 1000W versions instead. For most users, these two high power units will be overkill, but a small group of overclockers, multiple high-end graphics card users, or people with a Skulltrail system may have need for something like one of the units tested today.
Xigmatek are more famous for their coolers, where they offer very low prices and high performance. However, they are working to expand their PSU presence. As the capacitors and coils show on the picture below, these units come from CWT - just like the previously tested 600W unit. We have also tested a Thermaltake 1000W unit that delivered good performance and was also built by CWT.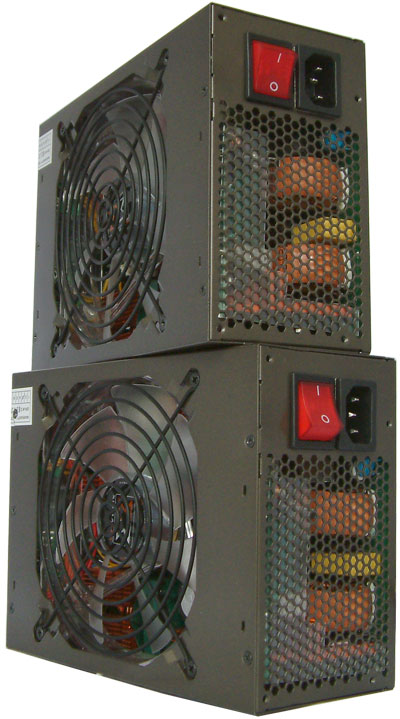 Xigmatek wants its power supplies to have a unique appearance to help them stand out from other companies. All of the shrink hoses and heatsinks inside are covered in orange, which looks pretty cool and contrasts with the green of the PCB. The housing is quite long for a normal ATX power supply, but the 1000W+ understandably needs more space than usual. The total length is 8"/20cm, which will cause problems with smaller PC cases. The weight also needs to be considered, as there have been some issues reported where the whole rear of the case has bent and distorted because of the weight of heavy power supplies. User's with a thin plate, aluminum chassis should take this may experience difficulties.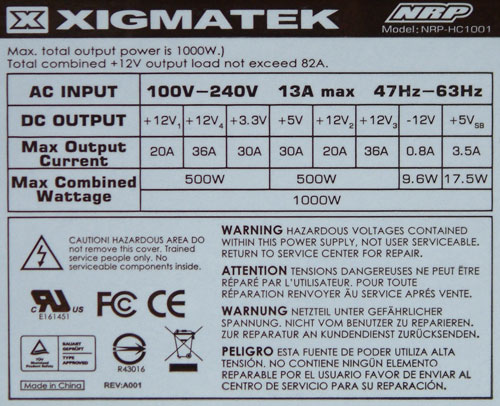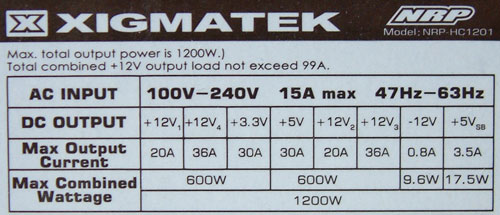 The label has a strange layout, similar to what we saw with Thermaltake. There are two sides each with two 12V rails and one smaller voltage rail. We will see later on why this is the case and what makes these two units so special amongst 1kW+ units. The numbers on the labels look similar and only the max output differs between these two units. Both have four 12V rails with 36A and 30A and a 3.3V and 5V rail each with 30A. Xigmatek states that the 1000W unit's 12V output should not exceed 82A. The 1200W version has a maximum output of 99A on the 12V rails. That's a hell lot of power that can be drawn from these rails.