Complete BIOS Tuning Guide - "Spread Spectrum Control"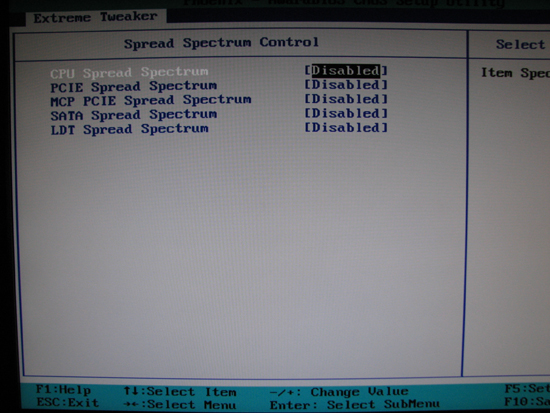 Spread Spectrum Control
Spread spectrum controls are really added to motherboards for one purpose only - they are sometimes needed so that a device for sale within the US can include a legitimate Declaration of Conformity stating compliance with Part 15 of the Federal Communications Commission (FCC) Rules. This stipulates that operation of the device (motherboard), (a) may not cause harmful interference, and (b) must accept any interference received, including interference that may cause undesired operation. Sales of electronic devices within the US require the strict observation of all FCC rules and regulations.
As a general requirement, every motherboard must be capable of generating and distributing more than one common clocking signal used to coordinate latching times as needed for the transfer and receipt of data across the many high-speed interfaces found in today's systems. Because it is uncommon for different busses to share similar operating frequencies, and because each must be kept independent of the others, a significant portion of motherboard resources are spent locating, monitoring, and regulating these circuits. Each circuit must include a reference frequency, or known base frequency, from which all other frequencies can be derived. A local oscillator usual provides this functionality.
The problem is these oscillators can sometimes cause electromagnetic interference (EMI) centered about their operating frequencies. In an effort to prevent these types of undesired interferences the FCC, an independent licensing organization for devices capable of transmitting electromagnetic signals, either intended or otherwise, operating under the purview of the US government, enacted "Rule 15," effectively limiting the output power of such devices.
Engineers, looking for a way to meet regulation, began using a method for limiting such interferences called spread spectrum clocking. Spread spectrum clocking causes the signal regulation circuit to slightly vary the frequency about the target frequency, effectively "spreading" the power over a somewhat larger frequency band. The method of operation can be used to control system output power below the FCC standard limits, allowing for a claim of full compliance.
As you can imagine, even the smallest variation in a clocking signal can be enough to create data transfer errors. The fundamentals of overclocking demand the cleanest, purest signal possible, which is why spread spectrum should always be disabled unless you have a good reason to enable it. Ergo, CPU Spread Spectrum, PCIE Spread Spectrum, MCP PCIE Spread Spectrum, SATA Spread Spectrum, and LDT Spread Spectrum should all be set to Disabled.