NVIDIA introduced the 790i product line just a few short weeks ago and ASUS is one of the first on the scene with their product offering. ASUS is taking a distinct twist on things, this time with their brand new 790i Ultra board, the ASUS Striker II Extreme. Truth be told, we had this board in our possession before the 790i launch, but decided to give it the full guide treatment during testing. Interestingly enough, we were just getting comfortable with the idea of crowning Intel's X48 the winner for the next generation of desktop chipsets when NVIDIA managed to reappear out of nowhere with their 790i (Ultra) MCP in tow.
Our first impressions, stemming from our time with an EVGA NVIDIA nForce 790i Ultra SLI motherboard, left us feeling as if Intel had some serious competition on their hands. We think it safe to say that for the first time in a long time NVIDIA is back in the enthusiast game, and in one fell swoop the 790i Ultra has been able to gobble up nearly every performance lead the X48 held and then some. This gives us hope for competition at the high-end for motherboards based on something other than the Intel X38 and X48.
One could argue up until the 790i release that the ability to run SLI - the technology that allows multi-GPU 3D graphics acceleration using two or more NVIDIA video cards installed in a single system - was the one and only reason for purchasing an NVIDIA-based motherboard. Earlier offerings based on NVIDIA chipsets, like the 680i and the 780i that followed, were expensive, ran hotter, consumed more power, and were generally considered second-rate choices when it came to overclocking Intel CPUs, especially the quad-cores. The boards that did make it to retail certainly experienced their fair share of problems - users either loved them or hated them, there was no middle ground. Fierce brand loyalties often had more to do with purchasing decisions than anything else did.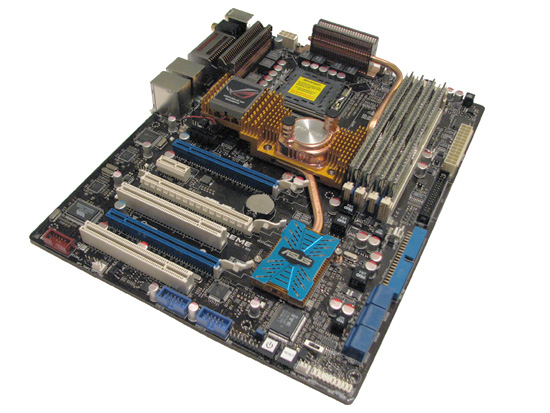 The ASUS Striker II Extreme is certainly one of the more attractive boards we have seen in awhile, but how does it perform? You'll find out soon enough.
From what we have seen, 790i has the ability to change all of this in the high-end market. The decision to design around DDR3 technology breathes new life into NVIDIA's once-aging product line, and the move to incorporate a native, on-die PCI Express 2.0 bus controller within the 790i SPP has added an attraction that 780i simply could not provide. CPU overclocking is also much improved with 790i claiming full compatibility right out of the box with Intel's newest 45nm processors, including official FSB 1600 support for desktop processors like the Core 2 Extreme QX9770. Regarding just how overclockable the chipset proved to be - we will let our results speak for themselves.