The Noctua NH-U12P Cooler
Noctua has made some inroads in to the US cooler market in the past few months, but Noctua is still not a well-known brand in the US market. You won't find Noctua sold at the large US etailers like Newegg, ZipZoomFly, or mWave. You can find Noctua coolers at specialty computer enthusiast shops like Frozen CPU or Xoxide. The Noctua NH-U12P kit retails for around $69, but we have seen it selling for lower prices at a few etailers. The kit includes the Noctua NH-U12F fan, which retails for $21 by itself.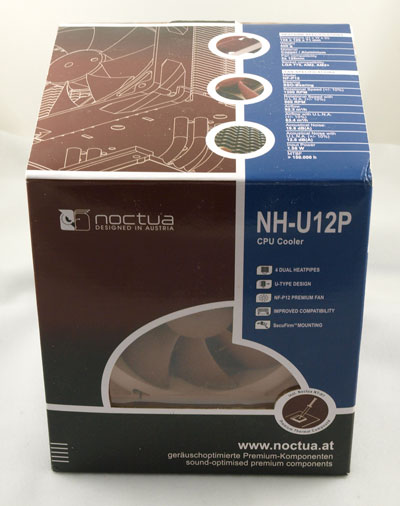 The Noctua NH-U12F continues the Noctua trademark brown and blue packaging. It seems that everything Noctua comes in packaging with variations on this corporate color scheme.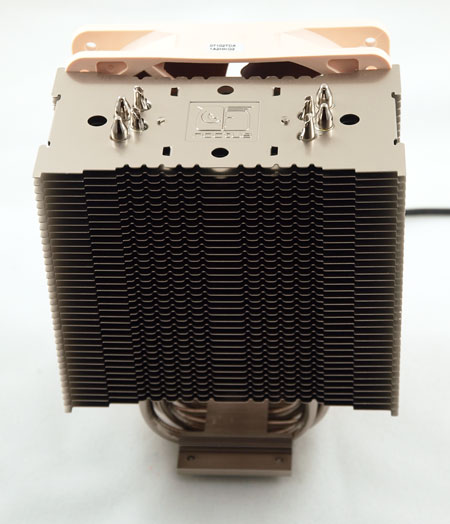 Inside the dark brown box, you will find two inner boxes with a heatpipe tower that is very reminiscent of the Thermalright Ultra-120 design and a package of mount kits and accessories. Noctua has been refining the basic design of this 120mm heatpipe tower for some time, but this heatsink is identical to the one reviewed in the NH-U12F review last year. There are fan wire channels that allow mounting of both front and rear 120mm fans on the Noctua if you choose that configuration.

You will also find an exceptionally well-protected heatsink, along with everything you need to mount the heatsink on an Intel Socket 775, or an AMD AM2/AM2+. Noctua is no longer including the AMD K8 (754/939/940) mount accessories that were part of earlier kits. The kit even includes four fan clips so there is enough hardware to mount both a front and rear fan in a push-pull configuration.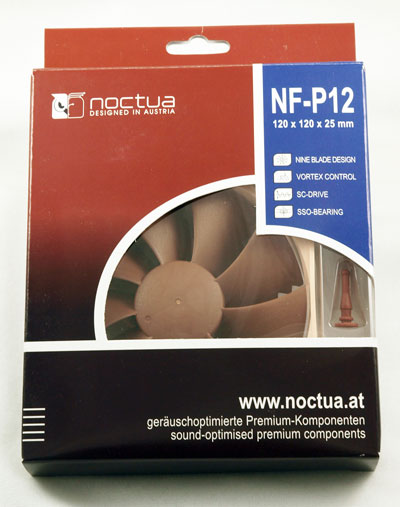 As mentioned earlier, the $21 retail S12 fan is also included and it is really the only difference from the earlier NH-U12F kit. Also included are L.N.A (Low-Noise) and U.L.N.A. (Ultra-Low Noise) adapters that fit between the fan plug and the board, which are useful for those who want to run slower speed and the lowest noise.
The included accessories abound with thoughtful little touches. Noctua includes a screwdriver that actually fits in the holes of the cooler fins to allow cooler mounting in some of the mount variations. The two included pairs of fan wire clips practically invite the buyer to try a push-pull fan setup. A clearly written installation manual with sections for both the Intel 775 and the AMD AM2/AM2+ is also in the package. Overall, the clear parts identification, abundance of mount options, and included extras make the Noctua one of the most flexible coolers we have worked with right out of the box.
Specifications
The 120mm fan is new and the only thing unique in this kit. The heatsink is the same one seen in the NH-U12F and other top Noctua kits, but it has seen further refinement since our NH-U12F review. The copper is nickel-plated in this incarnation and size and weight have minor revisions. With a design very similar to the top Thermalright coolers, it will be interesting to see if the new high-performance fan pushes this combo into the top tier of cooler performance.
Noctua NH-U12P Heatsink
Dimensions
95(L) X 126(W) X 158H)mm (including fan)
Weight
600g (excluding fan); 770g with fan
Material
Copper and Aluminum with soldered joints and nickel plating
Fan Configuration
Supports up to two 120mm fans of any thickness with open mounting posts
Noctua Fan
Model
Noctua NF-P12 (included, but also sold separately)
Fan Size
120mm x 120mm x 25mm
Bearing Type
SSO Bearing
Noise Level
19.8dbA/16.9dbA/12.6dbA (stock/LNA/ULNA)
Speed
1300/1100/900 rpm (stock/LNA/ULNA)
Air Flow

92.3/78.5/63.4 cubic meters/hour (stock/LNA/ULNA)
(54.3/46.2/37.3 cubic feet/minute)

Fan Bearing
SSO Bearing
Blade Geometry
Nine-Blade Design with Vortex Control Notches
Input Power
1.08W at 0.12A Input Current
Voltage
12V
Fan Life
>150,000 hrs (vs. 50,000 hrs for ball bearing)
Weight
170g (fan only)
The vortex control notches promise high performance and the new bearings promise long fan life. Noctua has so much confidence in the new fan design that they provide a six-year warranty with the new fan. While the fan price of $21 may seem high at first, the six-year warranty promises a much longer useful life than most competing fans.