Noctua is a truly international cooling company, with design in Austria, manufacturing in Taiwan, and marketing throughout the world. Some markets may know the Noctua brand better than others, but where Noctua is well established its name is synonymous with quiet. That is a good reputation to have in a market with segments obsessed with silence.
As quiet as Noctua's solutions proved to be in our review of the NH-U12F, Noctua has knocked at the top performance door but has not yet managed to break through. Top air-cooling performance continues to belong to Thermalright, with Tuniq, Scythe, and a few others following close behind.
Noctua does have some significant resources in its "Designed in Austria" approach. Rascom Computerdistribution Ges.m.b.H. is based in Austria and handles the design and distribution of new Noctua products. Rascom is a principal in Österreichisches Institut für Wärmeübertragung und Ventilatorentechnik - ÖIWV (The Austrian Institute for Heat-Transmission and Fan Technology). This development partnership between Noctua and ÖIWV brings extensive scientific resources to Rascom that greatly enhances the product design process.
These resources come into play with the latest Noctua design, which is the subject of this review. Noctua is determined to produce the top air-cooler on the market, period. The company also believes it can do that without compromising the low noise for which its coolers are already famous. The result of these latest design efforts is the Noctua NF-P12 fan.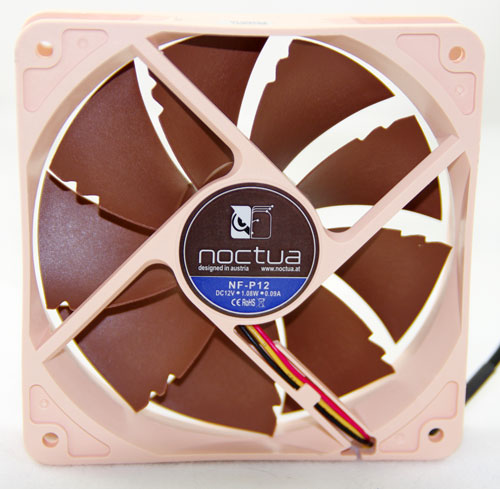 Noctua fans are already justifiably famous for low noise and long service, but the NF-P12 adds a number of innovations to move the design to new performance heights - and they say they have done it without compromising noise. These include a pressure-optimized Nine-Blade design, SC (Smooth Continuous) Drive to reduce torque variations, and a new SSO (Self-Stabilizing Oil-pressure) bearing for exceptional quietness and long-term stability.
Perhaps the most interesting innovation is the notches you see in the blades of the above fans. Noctua calls these Vortex Control Notches. These notches are "psychoacoustic optimizations", staggered to reduce noise levels from the fan.
All of these fan innovations have one real goal in mind: to run the NF-P12 fans faster without introducing more noise. In the end, such optimizations can skirt laws of physics but they can't really break the laws. For improved air-cooling, you need to remove heat efficiently with a great heatsink design, but that heat must be dissipated with sufficient airflow to be effective. Higher airflow means higher noise, but the large fan size and fan design innovations aim to provide the needed high air flow while still maintaining low noise.
Noctua believes their current top heatsink design, which we first saw on the NH-U12F, is as good as anything on the market. They have coupled that heatsink with the NF-P12 fan and they claim this combination will move them into serious competition at the top of our performance charts while still maintaining lowest noise. Does this work; has Noctua found a way to accomplish both highest performance and incredibly low noise? This review of the Noctua NH-U12P will find out if Noctua has accomplished the seemingly impossible.