There's a story over at Intel that goes something like this:
Being declared a Fellow at Intel is one of the highest honors that can be bestowed upon an Intel employee. I've heard Intel Fellows described as certified geniuses, and from my own personal discussions with them I can attest to that - these guys are very smart.
There's a retired Intel Fellow named Fred Pollack. Throughout most of the 1990s Fred held an important role in Intel's Microprocessor Products Group (MPG) where he defined many of the specifications for Intel CPUs from the Pentium Pro onwards.
Intel has a fairly successful branding division. This is the division that cranked out names like the Pentium, Centrino and Core. It turns out that Fred was extremely passionate about his CPUs, so passionate in fact that he'd often show up at Intel branding meetings whenever one of his babies was to be named. Keep in mind that Intel has a skilled group of folks whose job it is to name processors, despite this fact Fred would always show up at branding meetings with what he thought was the best name for Intel's latest creation.
It used to happen so frequently that whenever a new Intel microprocessor was designed but before it was named, those within Intel would simply call it Fred.
We've talked about Silverthorne, Intel's brand new low power, low cost x86 processor on a few separate occasions already. Silverthorne however, had yet to be named.
Intel's goals for Silverthorne are lofty. This is the low power, low cost chip whose derivatives will eventually end up in everything from cellphones to TVs. I've often referred to it as the core Apple wanted to put in the iPhone, and within 3 - 5 years it could easily be used in such a device. The market potential for Silverthorne is huge, and Intel realizes this - which is why when it came time to name the chip, Intel chose to create a new brand.
It seems like lately Intel has been creating new brands left and right, so the impact of a new brand just for Silverthorne isn't as big as it would've been several years ago. When Intel first informed us that it would be creating a new brand for Silverthorne we weren't privy to the name, Intel simply called it the "Fred" processor. Today Intel filled in the blank and is announcing that Silverthorne and its derivatives will be called the Intel Atom.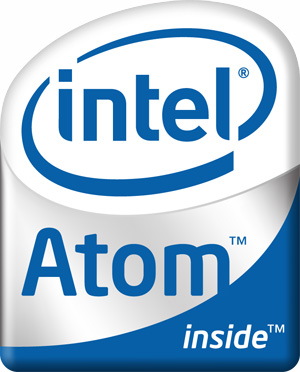 The Intel Atom processor refers to anything Silverthorne derived, that's Silverthorne for ultra mobile devices and Diamondville for desktop and cheap notebooks (e.g. ASUS EeePC style laptops). Both of these processors are now called the Intel Atom.
Diamondville will launch in Q2 of this year as the Intel Atom 230, running at 1.6GHz with a 512KB L2 cache. The ultra mobile variants based on Silverthorne will also launch around the same time frame but at various clock frequencies of up to 1.8GHz with a 0.6W - 2.5W TDP.
We've already looked at the Intel Atom's architecture in detail, so make sure to read our previous articles on the topic for more detail.