The Card and The Test
The Hardware
Palit provided us with a rather amazing little 9600 GT, but we received it a little later than our EVGA parts and we didn't have two of the Palit cards to test SLI either. We've done our testing here with the parts EVGA sent us, but there are some very interesting 9600 GT parts coming out.
The Palit part absolutely deserves a mention, and we will be testing it out as soon as we get a chance. Among the notable features is the fact that Palit has provided not only 2 dual-link DVI ports, but interfaces for both HDMI and DisplayPort. There is also an optical SPDIF input on the back enabling audio to be sent over HDMI.
But let's get back to the hardware at hand. NVIDIA reports that the GeForce 9600 GT will draw about 95W in real world apps. This means it does require a PCIe power connector to provide the added juice over the 75W available from the motherboard via the PCIe x16 slot.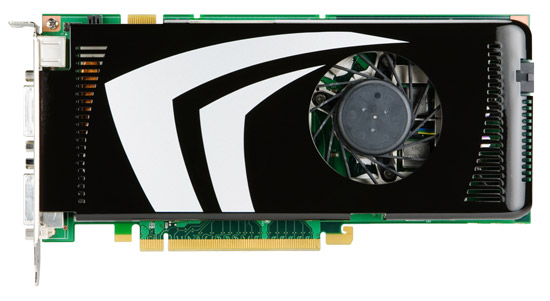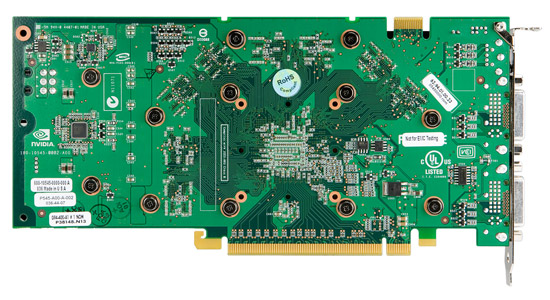 The reference design used by EVGA is single slot and makes use of a fan shroud that covers the entire front face of the card. The Palit card we received is a two slot solution, but the main reason for this seems to be the inclusion of all the added I/O. The EVGA part isn't very loud, but we will be interested in comparing the noise levels between the reference design and Palit's larger solution to see if there is any real advantage from going with the wider model.
Our Test Setup
All of today's tests were performed on the 64-bit version of Windows Vista running on a monster of a system. We test all of our graphics cards on high end hardware in order to eliminate the bottlenecks associated with anything but graphics. This means it isn't likely that our numbers will reflect what our readers will see when actually playing a game, but what it does show is which video card is actually capable of providing a better experience when in a situation where graphics processing is the bottle neck.
Isolating the graphics subsystem is important for a few reasons. We can't know what is in your system and we haven't (yet) been able to test every graphics card with every CPU and system memory configuration out there. If you run a system slower than our test bed, you may run into CPU or system memory limited situations, in which case average frame rate won't be governed only by the GPU.
So why is graphics card selection still important? Because the graphics card has the most impact on graphics quality and performance of any single component in the system, and because even in highly CPU limited situation we can still see slow frames come along and throw the GPU a curve ball. Having a more powerful GPU in your system will provide a smoother experience even in CPU limited situations that show less difference between two competing solutions. In a system limited case, dropping in a higher performance GPU will also enable you to turn on more features. We can't decide what eye candy is "better" as every gamer is different and will make their own trade offs. And for new GPU launches, we don't have the time to benchmark every permutation of every setting in every game we test.
The bottom line is that better performance from a GPU in a high end system will translate to more flexibility with options and smoother performance in a lower end system.
Here is our test configuration:
Test Configuratoin
Test Setup
CPU
2x Intel Core 2 Extreme QX9775 @ 3.20GHz

Motherboard
Intel D5400XS (Skulltrail)
Video Cards
ATI Radeon HD 3870
ATI Radeon HD 3850 256MB
ATI Radeon X1950 XTX
NVIDIA GeForce 8800 GT 256MB
NVIDIA GeForce 9600 GT 512MB
NVIDIA GeForce 8600 GTS
Video Drivers
Catalyst 8.2
ForceWare 169.28
ForceWare 174.12 (9600 GT only)
Hard Drive
Seagate 7200.9 120GB 8MB 7200RPM
RAM
2xMicron 2GB FB-DIMM DDR2-8800
Operating System
Windows Vista Ultimate 64-bit
Power Tests
We did run some power tests, but keep in mind that they will be a little high due to the fact that this is, afterall, Skulltrail we are running.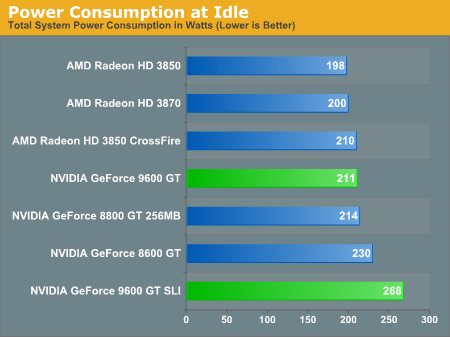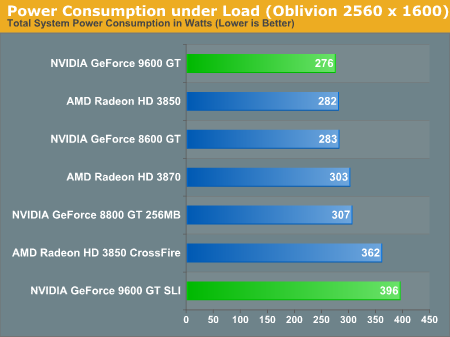 AMD's hardware shines at idle power with CrossFire even coming in below the 9600 GT. NVIDIA absolutley remains competitive in terms of power consumption under load, which is good to see.