Xigmatek NRP MC651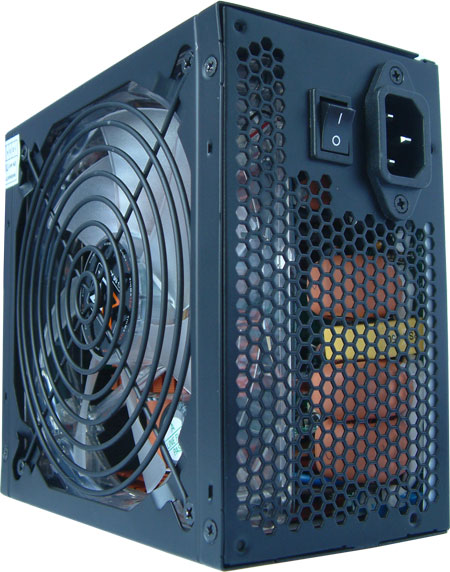 Xigmatek is a newer brand and is only sporadically available in the US at present. Xigmatek began a few years ago with very promising cooler designs and they have now jumped on the bandwagon of high-margin PSUs. We received our sample a while ago (before the unit began shipping), so we don't have any retail packaging. The unit design is final, however, and it looks quite nice. The housing is black as is the grille, and the fan is transparent. You can find the real manufacturer listed on the front of the unit, but Xigmatek took the liberty of using different colored cable sheathes and shrinking hoses.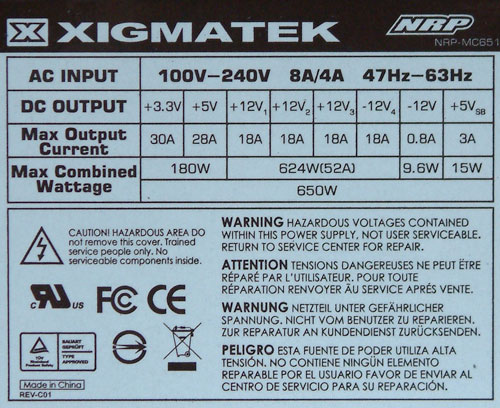 In terms of power ratings, we have a table nearly identical to all the other units. There are four separate 12V rails with a total combined power of 624W. The 3.3V and 5.0V rails have a combined power of 180W - slightly higher than the other units, though not particularly meaningful.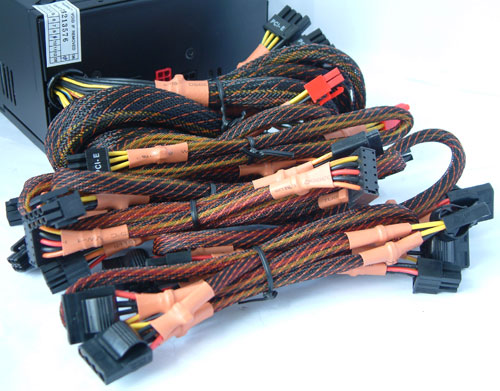 Xigmatek also uses 6-pin connectors for their cable management and provides four PEG cable harnesses, two with one 6-pin PEG and two with one 6/8-pin PEG connector. The two 6/8-pin PEG connectors connect to the main harness through the little hole on the front of the casing. The red jacks are for the additional two 6-pin PEG connectors if you need them for an SLI/CrossFire setup. With up to four PEG connectors, Xigmatek definitely gives users the best choice for graphics cards in today's lineup.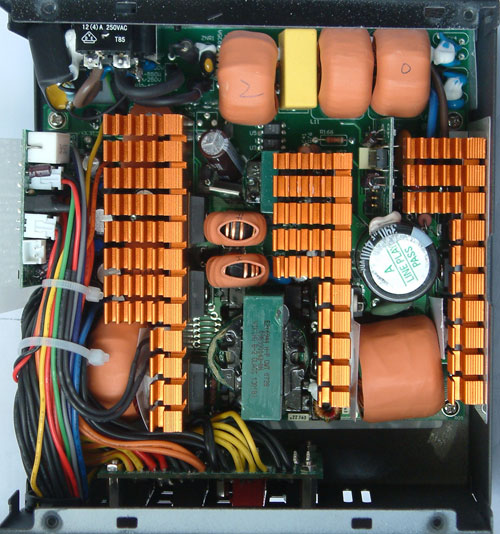 Opening the unit clearly reveals that Channel Well is the ODM. We have seen so many CWT power supplies lately that it's getting a bit tiresome. However, Xigmatek made some minor changes so they at least give this power supply something of a personal touch. All shrinking hoses and heatsinks are orange/beige, and you get an attractive "No Rules Power" plaque on the side (that's the NRP in the name). The results will show in a moment that performance is similar to the Thermaltake, which is no surprise considering it has the same components such as the Hitachi main-cap. For the secondary side Xigmatek went for Nippon Chemi-Con caps, which are a better choice.