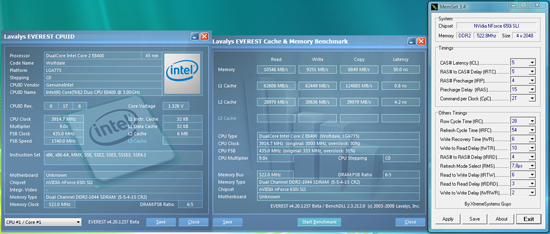 Click to enlarge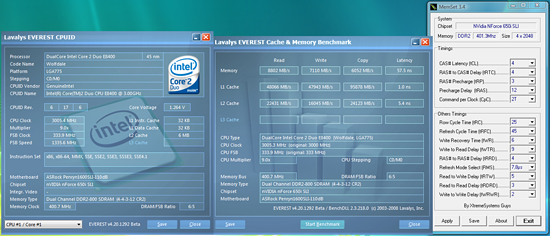 Click to enlarge
The first two screenshots show a final setting of 9x435FSB with the E8400 dual-core processor. This results in a final CPU speed of 3.91GHz at 1.375V. We utilized a 4x1GB and 2x2GB memory configuration at DDR2-1044 with 5-4-4-12 timings on 2.2V. This particular CPU is a recent retail purchase that will reach 4.1GHz with 1.3625V on an X48 board. We could POST at 9x445 but Crysis reared its ugly head and prohibited us from running at a higher FSB rate even with reduced memory speeds or increased timings. We had to set VTT to 1.375V, GTLRef to High, HT Link speed to 800MHz, and SPP voltage to 1.382V for stability.
Unfortunately, we could not change the CPU multiplier with the current 1.00 BIOS so maximum FSB rates are not available. However, we believe this board will probably do around 450FSB which is perfectly acceptable considering this FSB range usually maximizes performance with the right memory settings on this chipset.
Our 8GB memory configuration also resulted in a 9x435FSB setting with memory at DDR2-1044 at 5-5-4-15 timings on 2.2V. We had to set VTT to 1.42V. GTLRef to High, HT Link speed to 600MHz, and SPP voltage to 1.382V. We wish the BIOS had a 2.25V setting to ensure a little extra headroom for stability. The next setting after 2.20V is 2.31V and is outside the voltage recommendations for this memory. Our board operated fine but the increase in VTT voltage and decrease in HT link speeds were required to pass the benchmark test suite. In the end, these settings and resulting performance on this chipset with 8GB installed is exceptional.
Once again the board exhibited very good Vdroop levels with idle around -.01V raising to -.03V under load. We have included a stock 9x333 screenshot as a reference point. Memory timings and performance results at stock settings were equal between the 4GB and 8GB setups.
Overall, the overclocking performance of this board with the E8400 and QX9650 is good, certainly not the best we have seen with the Intel chipsets, but perfectly acceptable given the board's target market. In all cases, once the various voltage and memory timings were dialed in, the board proved to be extremely stable. This is a very good indicator that ASRock can fine tune additional performance and hopefully address a few of our requests for improvements. They have already responded with a new BIOS release that we are testing currently.
Quick Thoughts -
ASRock is one of those companies that people tend to either love or hate. A lot of people wouldn't even consider purchasing a budget oriented motherboard, choosing to live by the old adage "you get what you pay for". However, based on what we have seen out of ASRock in the past few months, we would not hesitate to recommend this board for someone looking for a solid gaming platform, especially if SLI is important. We say this without showing the rest of our cards on the table, but this board is already a diamond in the rough for those looking to marry an E8400 with a couple of 8800GT's. How it will fair in the end against the likes of the abit IP35-E and Gigabyte GA-P35-DS3L is something we will answer shortly.