An iPod Hard Drive in a Mac?
One of many sacrifices made in the quest for the thinnest notebook in the world in the hard drive department. The MacBook Air ships with an 80GB 1.8", 5mm thick, 4200RPM PATA hard drive while most regular notebooks feature much faster 2.5" drives with larger platters that spin at 5400 or even 7200RPM. Apple does offer a supposedly faster 1.8" solid state drive (SSD) as a $999 option, but given the price most will opt for the standard HDD.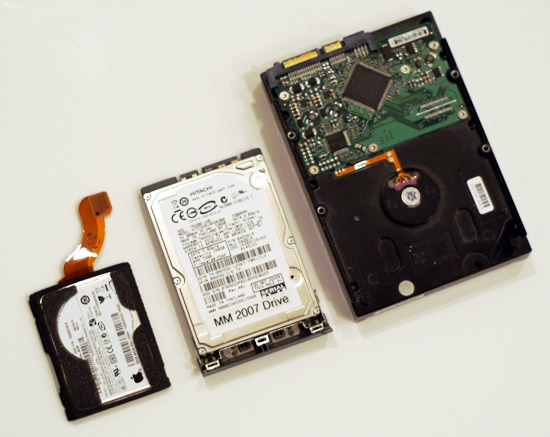 From left to right: 1.8" Air HDD, 2.5" standard notebook HDD, 3.5" standard desktop HDD
The 1.8" HDD's performance limitations are visible from the start. Spotlight searches aren't always instantaneous but on a brand new machine they tend to be faster than they were on the Air. OS X does a great job of hiding slow disk performance (subjectively much better than Vista, but I don't have scientific test results to back that up), but even then the drive is a clear limitation of the system.
For basic typing, email and web surfing it's fine. If you throw in some multitasking, spotlight searches and start launching some more complex applications, then you really see the drive choke. We wanted to see if the SSD would fix these issues, so we set out on upgrading the drive in our MacBook Air.