The CPUs
Late last year Intel announced the Core 2 Extreme QX9770, a 3.2GHz, 1.6GHz FSB quad-core desktop processor. We'll finally see availability of that beast this quarter, but you'll notice that the Skulltrail platform uses a slightly different CPU: the Core 2 Extreme QX9775. The 5 indicates that unlike the QX9770, this chip works in a LGA-771 socket just like Intel's Xeon processor. The different pinout is necessary because only Xeon chipsets support multiple CPU sockets and for a handful of reasons, that means we're limited to LGA-771.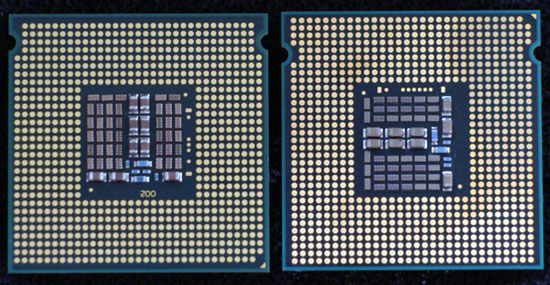 LGA-771 QX9775 (left), LGA-775 QX9770 (right) - Can you spot the four missing pins?
The specs on the QX9775 are otherwise identical to its LGA-775 counterpart. The 45nm Yorkfield/Penryn core runs all four of its cores at 3.2GHz and is fed by a 1.6GHz FSB. Each pair of cores on the CPU package has a 6MB L2 cache, for 12MB total on each individual CPU.
Despite using a Xeon socket, the Core 2 Extreme QX9775 isn't a Xeon. It turns out there are some very subtle differences between Core 2 and Xeon processors, even if they're based on the same core. Intel tunes the prefetchers on Xeon and Core 2 CPUs differently so unlike the Xeon 5365 used in its V8 platform, the QX9775 is identical in every way to desktop Core 2 processors - the only difference being pinout.
Intel wouldn't give us any more information on how the prefetchers are different, but we suspect the algorithms are tuned according to the typical applications Xeons find themselves running vs. where most Core 2s end up.
Like all other Extreme edition processors, the QX9775 ships completely unlocked, making overclocking unbelievably easy as you'll soon see.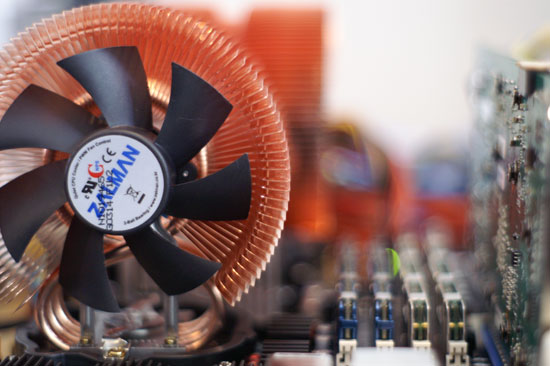 Cooling the beast, if you think those fins will cut you...they will.
The price point is going to be the worst part of the QX9775. Intel isn't publicly announcing the price per processor, but over $1000 is a starting point. It looks like QX9770s preorders are going for over $1500 so we'd expect the QX9775s to be priced similarly, possibly eventually settling at $1200.