Nikon launches D60 Entry DSLR
Nikon was very busy at the end of 2007 with new camera introductions. The prosumer 12.2 Megapixel D300 finally shipped in Novemeber. Nikon also introduced their first full-frame DSLR in the D3, which is selling for around $5000.
It was widely expected that Nikon would replace their entry-level D40X/D40 with a new model – possibly at PMA. The new D60 was announced earlier this week and we got an opportunity to spend some time with the new entry level DSLR at PMA.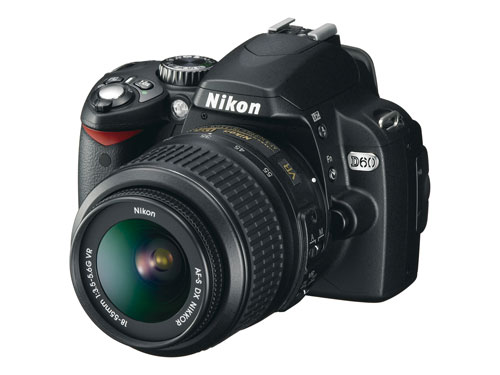 The D60 is tiny like the D40X/D40 it will eventually replace. All models will coexist for a while, but the D60 is the Nikon that will continue in production as the entry level model in the Nikon line.
Like Canon, the Nikon entry-level D60 will now ship with an optically stabilized lens, the Nikon 18-55mm VR. This means all the major camera makers will now offer some form of anti-shake in their entry SLRs. Nikon and Canon will include an optically stabilized lens, while Sony, Olympus, and Pentax cameras feature body-integrated Image Stabilization that will work with any lens.
Automatic sensor cleaning, a feature Nikon once proclaimed as unnecessary, is also featured on the D60. Nikon adds their own unique twist with an Airflow Control System that also channels airflow and dust away from the sensor. The D60 also adds an eye-sensor to turn off the LCD when the user looks through the viewfinder and auto menus orientation – the LCD info turns when the camera is moved to vertical. Both these features were pioneered by Minolta/Sony and standard in the current Sony cameras.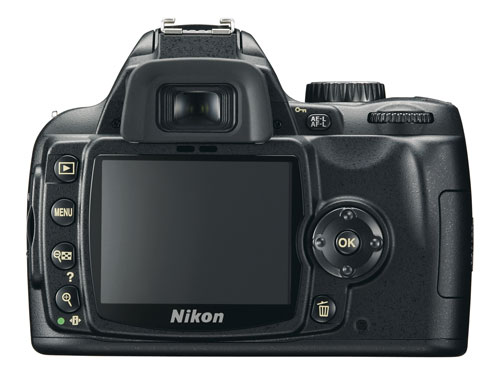 The D60 is otherwise a mild upgrade to the D40X, and ergnomics and handling are very similar to the model it replaces. However notable the addition of auto sensor cleaning, the D60 may be more notable for the things that it did not bring to the fiercely competitive entry Digital SLR market. The screen resolution remains 10.2 megapixel, where Canon moves the XSi to 12.2 megapixel. The LCD screen remains 2.5 inch, where Sony and Pentax move to 2.7 inch and Canon moves to 3 inch. All their competitors feature Live View but the D60 does not. Also, Nikon and Olympus are now the ONLY two entry DSLR cameras without the option of adding Battery Grips for extended shooting times and better handling of vertical shots.
Buyers of entry-level DSLR cameras do not typically have a collection of lenses that influence their buying decision. For that reason Nikon may have a hard time convincing new buyers to go Nikon with a feature set that is not particularly competitive. An update to the current D80 can not be far behind and perhaps it will bring the sizzle that seems to be lacking with the D60.
Availability is likely in March and the final US selling price has not been announced.