Noise Levels
For many enthusiasts upgrading cooling the goal is maximum stable overclock, and they will live with the inconvenience of a louder system. For other users silence is the most important factor, and these users will forgo maximum overclocking if that increases system noise levels. Those who expect silence to be the domain of high-priced cooling solutions are in for a very pleasant surprise with both these Arctic Cooling solutions. It is unusual to see this much attention paid to noise reduction in value coolers, but the use of elastomeric bushings and low noise bearings show that Arctic Cooling takes noise reduction very seriously. Do these features work?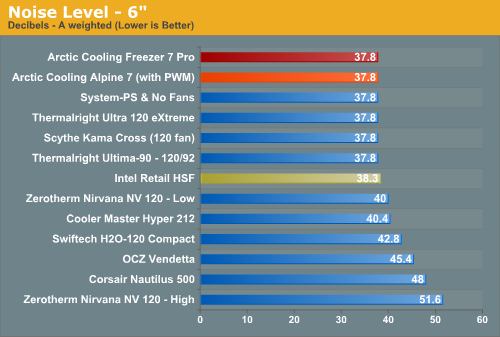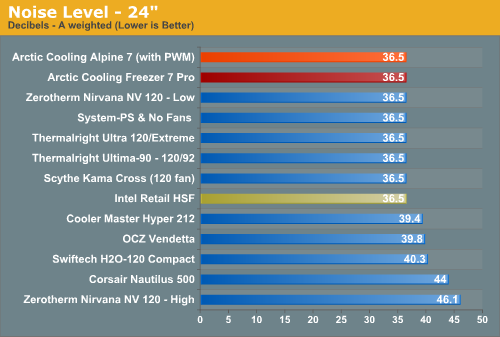 The Arctic 7 (with PWM) and the Freezer 7 Pro turn out to be two of the quietest coolers we have tested so far in our new cooling test bed. All four test results are at the floor of our system noise, and the new test system noise floor is equivalent to a suburban bedroom at night in noise level.
Both Alpine coolers remain silent, even when pushed hard with load testing and overclocking, which increases fan speeds. It is rare to see such low noise levels on any cooling fan, but it is particularly impressive in coolers designed to sell for less than $25.
Neither of these sub-$25 coolers will really challenge the top of our overclocking performance results, but in their effective range - which is wider than you might expect - both coolers are extremely quiet. The frameless fan, low noise bearings, and elastomeric fan mounts are obviously doing their job very well.