Our initial reaction to Gigabyte's DES (Dynamic Energy Saver) software was stated in the GA-X48T-DQ6 review a few weeks ago. Although we had toyed with this new software from Gigabyte, time constraints led us to skimming the surface of its full potential during our testing. DES software will be available on all Gigabyte motherboards that are Intel 45nm processor compatible. Currently there are plans for six models - from the budget range P35 boards, right up to the flagship GA-X48T-DQ6 motherboard that we are using as our platform for testing today.
As Gigabyte is putting quite a bit of energy (excuse the pun) into the launch of DES, we decided that a small breakout article about this technology would be interesting. We wanted to see if DES brings anything exciting enough in the way of power savings to get Al Gore's green seal of approval for AnandTech's test lab. However, if Al does arrive, we are sure he will be less than pleased with our gaggle of quad-core processors, 8800 Ultra cards, and extreme benchmarking equipment. To be more precise, the cascade coolers we utilize send our watt-meter off the scale during initial switch-on surge. Stable power draw is in the region of 2200W when both units have reached cooling capacity. In case anyone is wondering just how much power it takes to send a watt-meter off the scale, it's around 3588W (UK 220V -13 amp sustained maximum).
Needless to say, we are "green enough" not to subject our wallets or the planet to this kind of power abuse on a regular basis. Perhaps DES will help remove some of our guilt. We hope that it will. However, once we switch on those big power-guzzling cascades, using DES would be like eating a hearty 1500 calorie "everything is fried" breakfast and then topping it off with a sprinkle of bran flakes to claim that we are monitoring our long-term health. Actually, scrap that statement - every little bit helps right?
Owning a power consumption meter can be a remarkably enlightening experience; you either find out you are drawing way more power than you thought you were, or that you are drawing a lot less power than you had been lead to believe. Either way, we are constantly being reminded by those around us that we should do our utmost not to waste electricity.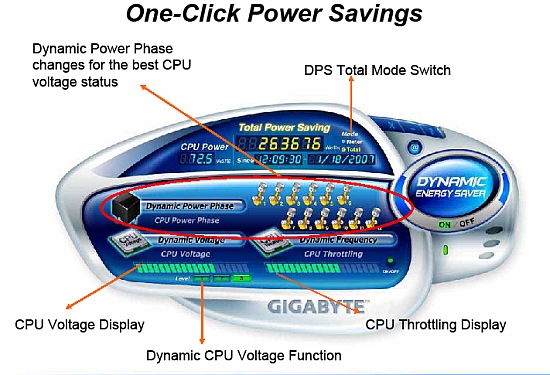 Before we begin testing the merit of DES's purported 1-touch power saving capabilities, we must point out that the features used by DES are all made possible by Intel's VRM 11.1 specification, which has been designed specifically for Intel's Hafnium based 45nm processor technology. Firstly, VRM 11.1 allows the PWM controller to receive a signal from the processor to shut down PWM phases during low load or idle processor states. Secondly, the PWM is able to receive a signal from the processor to modulate core frequency that creates a throttling type effect, further reducing power consumption during light processor loading situations. Both of these functions require an operating system driver to operate - basically the software tells the CPU when to send the phase switching/VID control/modulation signal to the PWM controller, which in turn sends a signal back to the processor to throttle down or up.
Over the past week, we ran a series of load and idle tests monitoring for power draw and potential savings, both using DES and by manual manipulation of voltage settings via Gigabyte's Easy Tune 5 software. We aim to find out just how much power one click of the DES user interface button allows and if we can match these savings by manual manipulation of the processor's voltage settings in the BIOS. Let's take a look at how much power DES allows us to save on a high end X48 board.