Thermaltake Toughpower 1000W (W0132RU)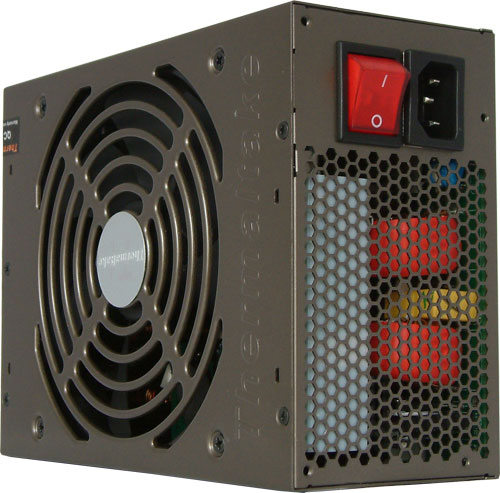 Thermaltake power supplies are often quite nice to look at, and the bronze palette fits nicely with the red of the button and the cover for the coils. The power supply is quite long - we'll find out why in a moment. One thing that perplexes us is the fan-grill for the large fan on the bottom. Thermaltake punches holes in the casing, making the use of a separate grille unnecessary. The problem with this method is the decreased amount of air that can pass through the holes. If you compare a normal fan-grille to this one, it is obvious the standard fan-grille will allow for better airflow. To compensate, it may be necessary to run the fan at higher RPMs, which is not something most people desire.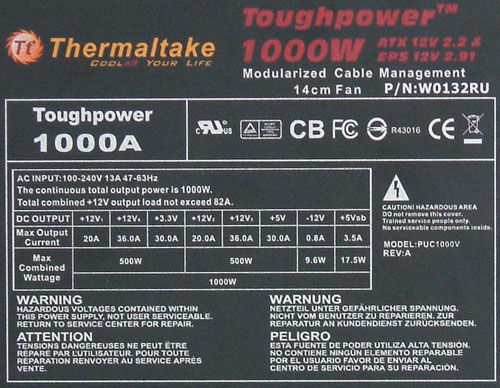 The label is quite different from what we are used to with other power supplies. This has something to do with the fact that there are in fact two power supplies inside the chassis. We will see this when we open up the unit. The left side shows two 12V rails with the 3.3V rail together and a maximum combined power of 500W. The right side shows two 12V rails and the 5V rail together with a maximum of 500W as well. Together that is 1000W. Each of the 12V rails is equipped with either 20A or 36A. The 36A on each side will be useful for the highest-end graphics cards.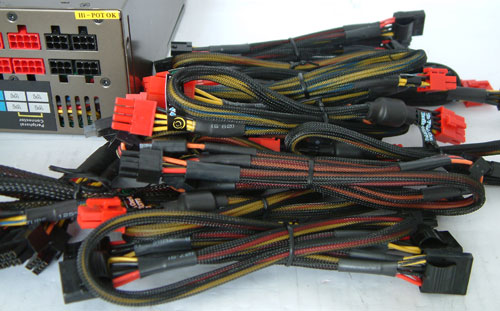 Thermaltake includes a vast amount of cable harnesses as can be seen in the shot above. There are six PCI-E connectors - three 6-pin and three 6/8-pin. The length varies from 45 to 60cm. There are four additional peripheral harnesses, providing six Molex and six SATA connectors in total.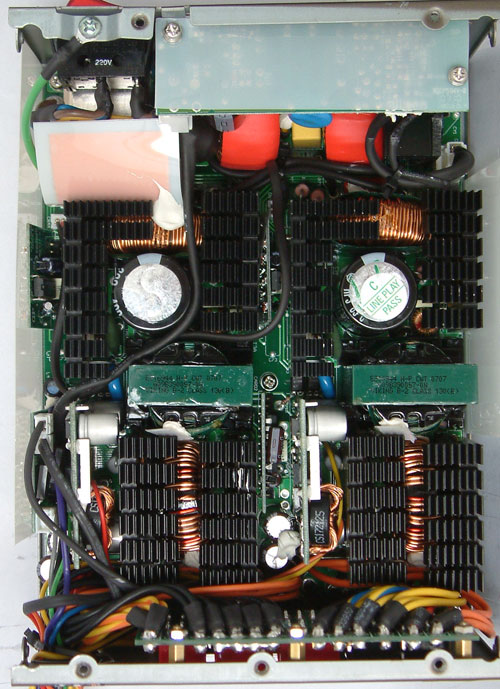 Now comes the interesting part. As we can clearly see, there are two separate power supplies inside the housing. Each one has its own PFC stage, transformer, and secondary stage with all solid capacitors. This means each part shares only the input filtering stage. We saw this topology with the PC Power & Cooling Turbo Cool 1200W and the performance was very good. The only problem was the lack of airflow through the power supply, and we will see if Thermaltake fares better in this regard. PC Power & Cooling used two separate PCBs, vertically mounted on the main PCB. Thermaltake took a different approach and installed two circuits on one PCB. The advantage of the Thermaltake design is better cooling for the components. The fan blows directly at the components and heatsinks.