Mainstream GPU Performance
For gamers out there who play on a 1280x1024 panel, there is hardware to be had that doesn't cost a lot of money but will provide good performance at this very common resolution. The 2600 XT and 8600 GTS are the parts that we can really start getting interested in. Of course, making the jump up from this price point to the next leaves much to be desired: currently the $200 - $300 price segment is a bit lacking.
Again we've included older hardware for reference and we are also leaving the 8600 GT and the 2600 Pro. These parts really span the gap between the low end and mainstream price points. It's a shame we have so many offerings between $50 and $150 and so little up until we hit $300. But let's get to the benchmarks.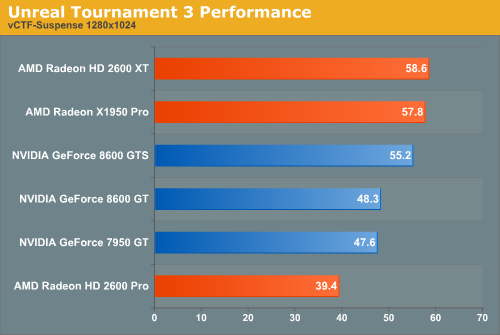 The 2600 XT, while less expensive than the 8600 GTS, manages to lead the pack here. Another win for AMD shows promise for their architecture in anticipation of the next gen titles looming in the distance. Does R6xx have some fight left in it? Will newer titles continue this trend, or is this a one time fluke that can be attributed to beta code? We really will have to wait and see on this one.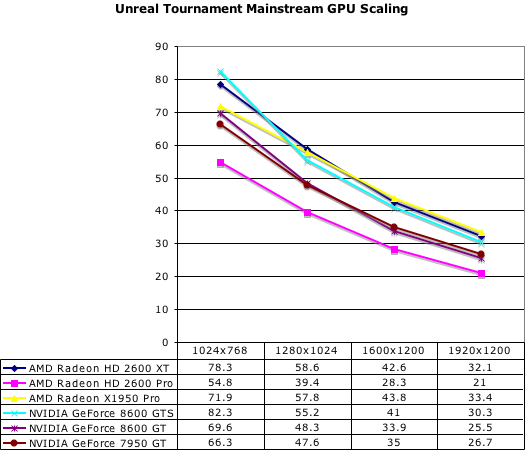 The X1950 Pro, HD 2600 XT, and 8600 GTS perform very similarly across most resolutions tested. The exception is 800x600 where the NVIDIA part leads the way. Of course, the card to pick is the 2600 XT, as it's cheaper than the 8600 GTS.