Penryn's Launch Schedule
The launch will work like this: late this year (Q4), Intel will introduce a a new Extreme Edition processor based on Yorkfield (quad-core Penryn). Given that most Extreme Edition chips start out with a $999 price tag, that's where we'd expect the first quad-core Penryn to fall as well.
More affordable Penryn won't arrive until Q1 2008, which is great news for AMD. In the beginning of next year, Intel will introduce both mainstream Yorkfield and Wolfdale (dual-core Penryn) parts. We'd expect Wolfdale based chips to run at between 2.33GHz and 3.00GHz, while Yorkfield will probably top out at 3.33GHz.
In Q2 2008, Intel will push Penryn even further down the line and introduce a Wolfdale based E4xxx successor. This version of Wolfdale will have a 1066MHz FSB and drops support for Intel Virtualization Technology and TXT.
The Chip
Intel is keeping its few remaining cards close at hand, and thus it is only sampling lowly 2.33GHz Wolfdale/Yorkfield chips. It's not an issue of getting the 45nm process to clock high enough (as you'll see from our overclocking tests), so we'd guess that Intel doesn't want to have the performance of its top of the line 3.33GHz Yorkfield leaked until after Phenom hits.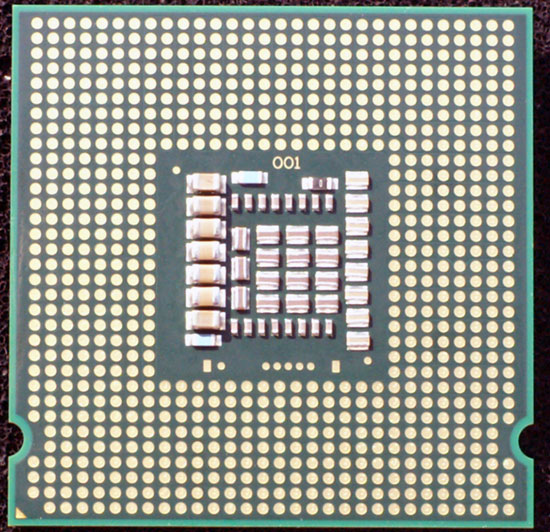 Wolfdale's underside - we have to hide the other side so Intel doesn't murder our mole in its sleep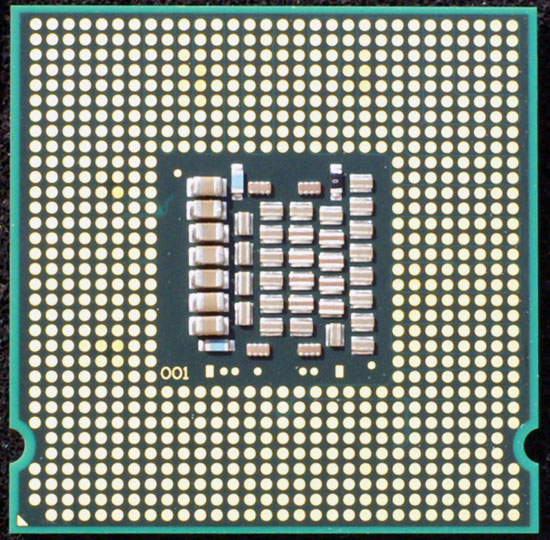 Conroe's belly for comparison
The 2.33GHz Wolfdale we're looking at today is best compared to the Core 2 Duo E6550 (2.33GHz Conroe), and that's exactly what we're doing.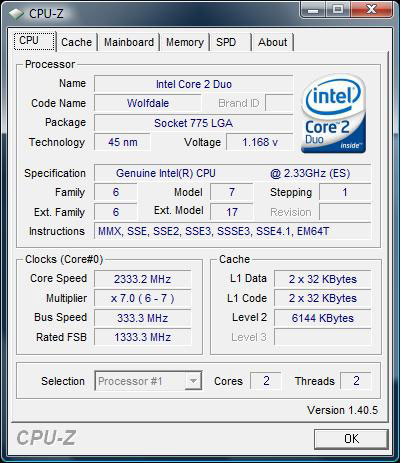 Our Wolfdale is also not the final stepping that will be shipping next year; we've got A0 silicon and A1 should be ready in the coming weeks. Despite the not-final state of the silicon, we had absolutely no problems with the chip in our test bed. We tossed it in our Gigabyte GA-P35C-DS3R test bed and ran through a subset of our test suite without so much as a BIOS update. We are waiting on the first Penryn-tuned motherboards and BIOSes to arrive, so performance may increase from where we're at today.
The Test
CPU:
Intel Core 2 Duo E6550 (2.33GHz/1333MHz)
Intel Wolfdale 2.33GHz/1333MHz

Motherboard:
Gigabyte GA-P35C-DS3R (Intel P35)
Chipset:
Intel P35
Chipset Drivers:
Intel 8.1.1.1010 (Intel)
Hard Disk:
Seagate 7200.9 300GB SATA
Memory:
Corsair XMS2 DDR2-800 4-4-4-12 (1GB x 2)
Video Card:
NVIDIA GeForce 8800 GTX
Video Drivers:
NVIDIA ForceWare 158.18
Desktop Resolution:
1600 x 1200
OS:
Windows Vista Ultimate 32-bit