PCMark05 Performance
We are utilizing the HDD test suite within PCMark05 for further comparative hard disk scores as it provides a mixture of actual application results and specific read/write percentages utilized within these programs. The program utilizes the RankDisk application within the Intel iPEAK SPT suite of tools to record a trace of disk activity during usage of real world applications. These traces are then replayed to generate performance measurements based upon the actual disk operations within each application. The HDD test suite contains 53% read and 47% write operations with each trace section utilizing varied amounts of read or write operations. Additional information about the test suite can be found in PDF format here
PCMark05 whitepaper
.
Our test results are based upon the following trace runs:
Windows XP Startup
: This test consists of 90% reading and 10% writes that tracks XP activities at start-up.
Application Loading
: This test consists of 83% reading and 17% writes that tracks the opening and closing of the following programs.
Microsoft Word
Adobe Acrobat Reader
Windows Media Player
3Dmark 2001SE
Leadtek WinFast DVD
Mozilla Internet Browser
General Hard Disk Drive Usage
: This test consists of 60% reading and 40% writes that tracks application usage utilizing the following settings.
Opening a Microsoft Word document, performing grammar check, saving and closing.
Compression and decompression using WinZip
Encrypting and decrypting a file using PowerCrypt
Scanning files for viruses using F-Secure Antivirus
Playing an MP3 file with Winamp
Playing a WAV file with Winamp
Playing a DivX video using DivX codec and Windows Media Player
Playing a WMV video file using Windows Media Player
Viewing pictures using Windows Picture Viewer
Browsing the Internet using Microsoft Internet Explorer
Loading, playing and exiting a game with Tom Clancy's Ghost Recon
Virus Scanning
: This test consists of 99.5% read operations as the test tracks the scanning activities of 600MB of files for viruses.
File Write
: This test consists of 100% write activities by writing 680MB of files onto the hard disk.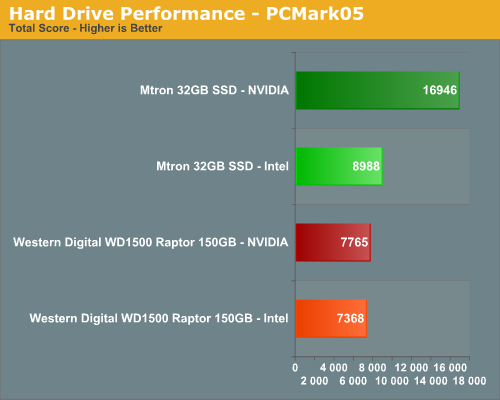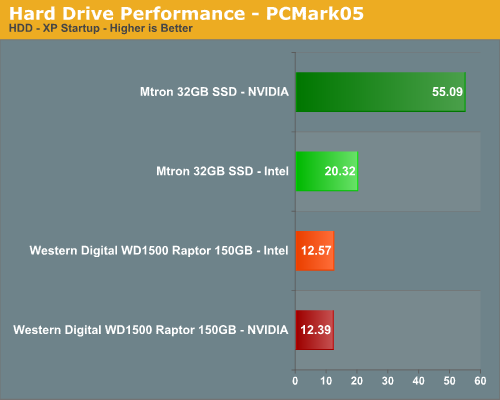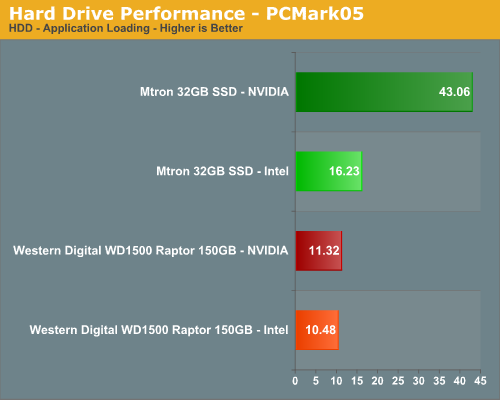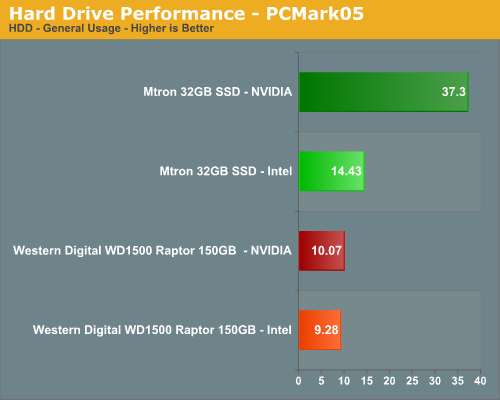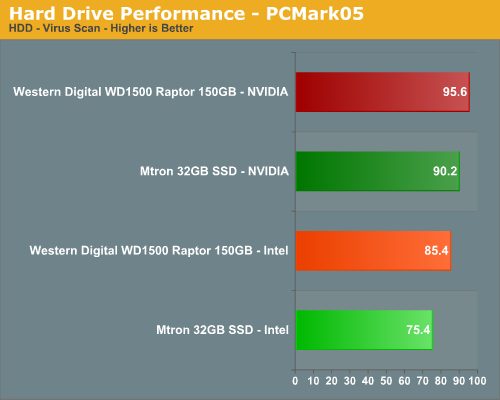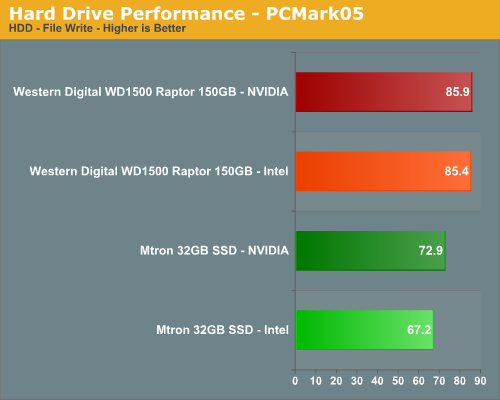 Our PCMark05 results show a new benchmark champion, and of course if you are using an NVIDIA based chipset then the resulting numbers are just that much better. Solid State Drives feature extremely low access times that are usually in the <1ms range and the first three PCMark05 test that emphasize read speeds over write speeds show the MTRON drive just walking all over the Raptor, especially with the NVIDIA chipset. While the numbers are impressive with the NVIDIA chipset, we tend to believe the Intel generated numbers are closer to actual application performance while the NVIDIA numbers are more representative of the hard drive's pure performance capability.
We fully expected the MTRON drive to score higher in the almost read only Virus scan test but it surprised us with a score slightly less than the Raptor, indicating that small block sequential file reads are not optimized on the drive at this time. We noticed the same pattern in our internal iPEAK tests where the drive scored about the same as the Raptor in the AVG virus scan and Winstone video creation tests. There is a 19% difference between the NVIDIA and Intel chipsets with the MTRON drive.
File Write tests tend to show major differences between the SSD and mechanical disks in our tests to date. The lower write speeds of the MTRON disk are in alignment with our expectations based on the drive's 80 MB/sec write speed specification. The results in PCMark05 were reproducible in our revised iPEAK test suite although we are still investigating the wide disparity between the NVIDIA and Intel controllers. However, pure hard drive performance is just one aspect of testing so let's see how the drive fares in a few application test results with both controller chipsets.