When discussing current Intel chipsets, the phrase "budget sector" is somewhat of an oxymoron. While there are a lot of choices in the $45 to $60 range for Core 2 Duo compatible boards, these are mainly based on older designs that do not offer anything in the way of additional features, extended overclocking, or performance oriented chipsets. This is not to say they are in any way bad, as our favorite Intel budget board in the lab is the VIA based
ASRock 4CoreDual-VSTA
, but rather these boards are targeted at an audience that is price sensitive or just looking for the best bang for the buck.
ASRock has built a very good reputation on offering these types of solutions. The performance oriented crowd will often snub these products due to their sometimes quirky nature but you cannot deny their value. In the case of the ASRock 4CoreDual-SATA2, this board allows you to move to the Core 2 Duo platform for a minimal cost. Besides offering good performance for a great price this board also provides the capability to utilize DDR memory and an AGP graphics card.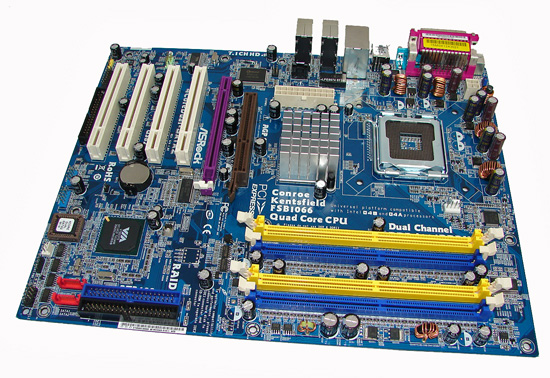 Click to enlarge
We provided a
series
of reviews centered on the 775Dual-VSTA last year, which was the first board in the VIA PT880 based family of products from ASRock. That board was replaced by the 4CoreDual-VSTA last winter that brought with it a move from the PT880 Pro to the Ultra version of the chipset along with quad core compatibility. ASRock is now introducing the
4CoreDual-SATA2
board with the primary difference being a move from the VT8237A Southbridge to the VT8237S Southbridge that offers native SATA II compatibility.
Our article today is a first look at this new board to determine if there are any performance differences between it and the 4CoreDual-VSTA in a few benchmarks that are CPU and storage system sensitive. We are not providing a full review of the board and its various capabilities at this time; instead this is a sneak peek to answer numerous
reader questions
surrounding any differences between the two boards.
We will test DDR, AGP, and even quad core capabilities in our next article that will delve into the performance attributes of this board and several other
new offerings
from ASRock and others in the sub-$70 Intel market. While most people would not run a quad core processor in this board, it does have the capability and our Q6600 has been running stable now for a couple of weeks, though we have run across a couple of quirks that ASRock is working on. The reason we even mention this is that with Intel reducing the pricing on the Q6600 to the $260 range shortly, it might just mean the current users of the 4CoreDual series will want to upgrade CPUs without changing other components (yet). In the meantime, let's see if there are any initial differences between the two boards besides a new Southbridge.