Overclocking
As cooling solutions do a better job of keeping the CPU at a lower temperature, it is reasonable to expect the overclocking capabilities of the CPU will increase. In each test of a cooler we measure the highest stable overclock of a standard X6800 processor under the following conditions:
CPU Multiplier: 14x (Stock 11x)
CPU voltage: 1.5875V
FSB Voltage: 1.30V
Memory Voltage: 2.20V
nForce SPP Voltage: 1.5V
nForce MCP Voltage: 1.7V
HT nForce SPP <-> MCP: Auto
Memory is set to Auto timings on the 680i and memory speed is linked to the FSB for the overclocking tests. This removes memory as any kind of impediment to the maximum stable overclock. Linked settings on the 680i are a 1066FSB to a memory speed of DDR2-800. As FSB is raised the linked memory speed increases in proportion. The same processor is used in all cooling tests to ensure comparable results.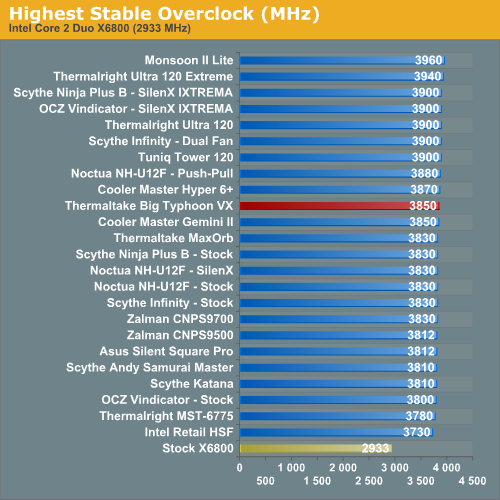 The Thermaltake Big Typhoon VX reached a stable 3.85 GHz, which matched the best performance with a down-facing fan cooler measured on the Cooler Master GeminII. However, this must be considered middle of the pack for overclocking compared with the top heatpipe towers that reach 3.90 to 3.94GHz with the same CPU on the same test bed. While the difference in maximum overclock may be relatively small, the better coolers all manage higher overclocks with noticeably lower temperatures.
One of the arguments for down-facing coolers is that they should cool board components better than the side blowing heatpipe towers. Lower board component temperatures should allow a higher overclock and better system cooling, at least on paper. The unfortunate reality is that all the down facing coolers we have tested, from the Cooler Master GeminII to the MaxOrb and Andy Samurai Master and now the Big Typhoon VX just do not cool as well as side-blowing heatpipe towers. Since cost is about the same as the best heatpipe towers we have tested, you really get better performance for your money with any of the top-performing heatpipe towers we have tested.