Introduction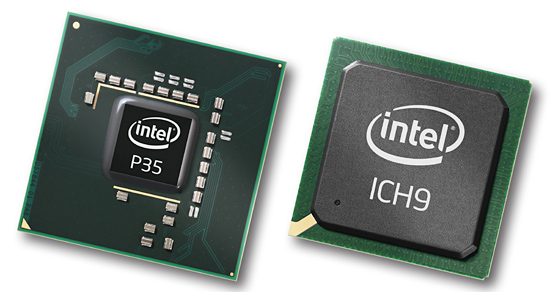 The introduction of the new P35 chipset today will likely be remembered as the time when Intel fully embraces the 1333 FSB. In the broad scope of events that would be a natural handle for the P35 introduction. However, Intel could have pushed P965 to officially support 1333 MHz for both FSB and memory speeds and called it a day with a suffix. Instead the decision was made to refine P965, improve a number of items in that existing chipset, and couple the new P35 Northbridge with a new spin on the Intel ICH Southbridge family to be known as ICH9/R.
Today is also the technology launch for the new Intel G33 Express chipset, a graphics chipset that replaces the 945G. Since the 945G replacement will mostly be of interest to OEMs like Dell and HP, we will not be evaluating the G33 chipset in this launch review. We will talk briefly about what is new, but reserve board testing to the new P35 Express chipset motherboards that will be of greatest interest to our readers.
With the incredible confusion surrounding today's introductions, perhaps it is worthwhile to talk about what was supposed to happen in the series 3 Chipset launch. The P35/G33 OEM launch was scheduled for May 9th, which was the time OEMs were to receive those new chipsets. The Performance launch is today, May 21st, when reviewers can first talk about performance of the new boards. The official product launch will not happen until Computex which begins on June 4th.
Still to come sometime in the 3rd quarter is the introduction of the X38 chipset, which replaces 975x, and the launch of G35, which will replace G965. The G35 will likely be of interest to mainstream readers, and we plan full coverage of that launch. There will also be a new value G31 chipset that replaces the current 946GZ and the 946GC. All of these new chipset launches are considered by Intel to be the transition to 3 series chipsets, which will pave the way for Intel's move to the 45nm CPU architecture.
Intel 3 Series Chipset
Chipset
Launch
Replaces
Segment
X38
Q3 '07
975X
Extreme
P35
June 4th '07
P965
Extreme
Q35
Q3 '07
Q965
Business
Q33
Q3 '07
Q963
Business
G35
Q3 '07
G965
Mainstream
G33
June 4th '07
945G
Mainstream
G31
Q3 '07
946GZ, 946GC
Value
The current Q series may not be familiar to some readers. It and the upcoming Q35 and Q33 are chipsets targeted at the business market. AnandTech readers will likely be most interested in today's P35 chipset and the upcoming X38 chipset that will replace 975X. Set-top builders will also be interested in the G35 that will be introduced next quarter.