The GeForce 8800 Ultra
Physically, the layout of the board is no different, but NVIDIA has put quite a bit of work into their latest effort. The first and most noticeable change is the HSF.
We have been very happy with NVIDIA's stock cooling solutions for the past few years. This HSF solution is no different, as it offers quiet and efficient cooling. Of course, this could be due to the fact that the only real changes are the position of the fan and the shape of the shroud.
Beyond cooling, NVIDIA has altered the G80 silicon. Though they could not go into the specifics, NVIDIA indicated that layout has been changed to allow for higher clocks. They have also enhanced the 90nm process they are using to fab the chips. Adjustments targeted at improving clock speed and reducing power (which can sometimes work against each other) were made. We certainly wish NVIDIA could have gone into more detail on this topic, but we are left to wonder exactly what is different with the new revision of G80.
As far as functionality is concerned, no features have changed between the 8800 GTX and the 8800 Ultra. What we have, for all intents and purposes, is an overclocked 8800 GTX. Here's a look at the card: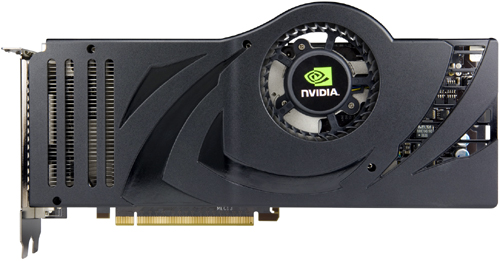 While we don't normally look at overclocking with reference hardware, NVIDIA suggested that there is much more headroom available in the 8800 Ultra than on the GTX. We decided to put the card to the test, but we will have to wait until we get our hands on retail boards to see what end users can realistically expect.
Using nTune, we were able to run completely stable at 684MHz. This is faster than any of our 8800 GTX hardware has been able to reach. Shader clock increases with core clock when set under nTune. The hardware is capable of independent clocks, but currently NVIDIA doesn't allow users to set the clocks independently without the use of a BIOS tweaking utility.
We used RivaTuner to check out where our shader clock landed when setting core clock speed in nTune. With a core clock of 684MHz, we saw 1674MHz on the shader. Pushing nTune up to 690 still gave us a core clock of 684MHz but with a shader clock of 1728MHz. The next core clock speed available is 702MHz which also pairs with 1728MHz on the shader. We could run some tests at these higher speeds, but our reference board wasn't able to handle the heat and locked up without completing our stress test.
It is possible we could see some hardware vendors release 8800 Ultra parts with over 100MHz higher core clocks than stock 8800 GTX parts, which could start to get interesting at the $700+ price range. It does seem that the revised G80 silicon may be able to hit 700+ MHz core clocks with 1.73GHz shader clocks with advanced (read: even more expensive) cooling solutions. That is, if our reference board is actually a good indication of retail parts. As we mentioned, we will have to wait and see.