As testing on the Thermalright Ultra 120 was nearing completion, Thermalright contacted us and asked if we would like to take a look at a new Thermalright cooler that was "even better than the Ultra 120". With the Ultra 120 rising to the top of our heatpipe tower performance charts, the answer was a definite "Yes".
A few days later a package arrived from Taiwan in the stock Thermalright plain brown box. There was not even a new ID on the package for this new cooler, but Thermalright told us it would be called the Thermalright Ultra 120 Extreme. So what is improved on the new Ultra 120 Extreme?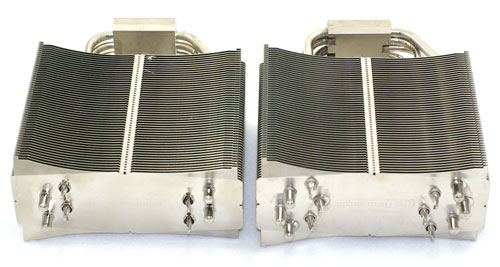 As you can see in the side-by-side comparison with the current Ultra 120, Thermalright has managed to add two more heatpipes to the Ultra 120 Extreme, raising the total heatpipes from four to six. Everything else about the Ultra 120 Extreme seems to be exactly the same as the existing Ultra 120.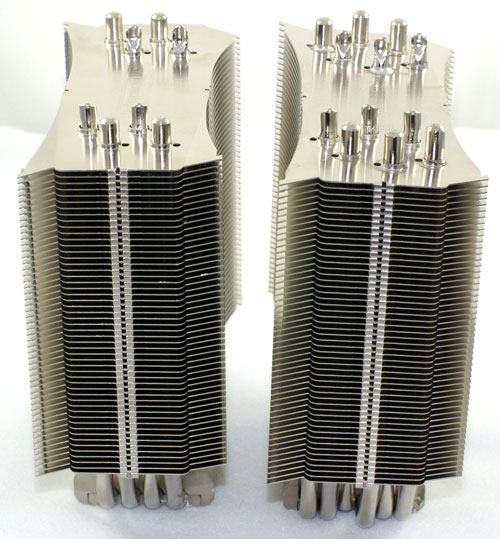 It is always good to see more heatpipes for cooling - particularly in a design that has proven to perform very well as the Ultra 120 has. We wondered, however, exactly how much difference two added heatpipes could make in the performance of the Ultra 120. Was it enough of a difference to justify Thermalright's enthusiasm about the new design?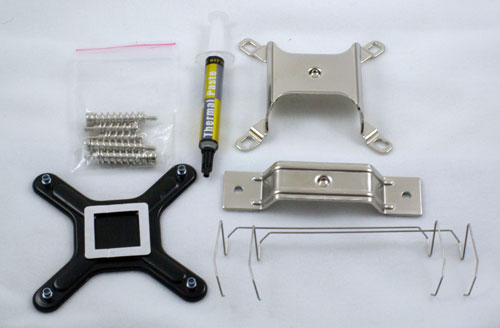 Thermalright also updated the kit with the Ultra 120 Extreme. Where the AM2 adapter is an optional accessory with the Ultra 120 kit, the Socket 775, AM2, and AMD 754/939/940 adapters are
all
included with the Ultra 120 Extreme.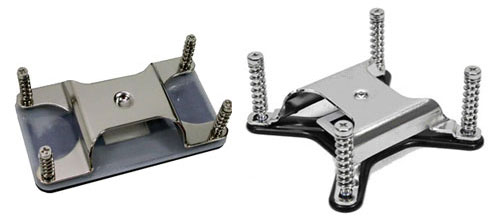 The addition of two extra heatpipes is pretty straightforward. However, the location of the added pipes does create some issues with the Intel socket 775 adapter carried over from the current Ultra 120 kit. The adapter frankly won't fit through the heatpipes in the new design. We actually had to bend the Socket 775 adapter to mount the Ultra 120 Extreme on a Core 2 Duo.

We have alerted Thermalright to the problem, and we sincerely hope they will make modifications to the Socket 775 bracket before shipping the Extreme kits to the retail channel. Those handy with tools will find a way to mount the Ultra 120 Extreme on a Socket 775, but most users will want an adapter that is easier to work with.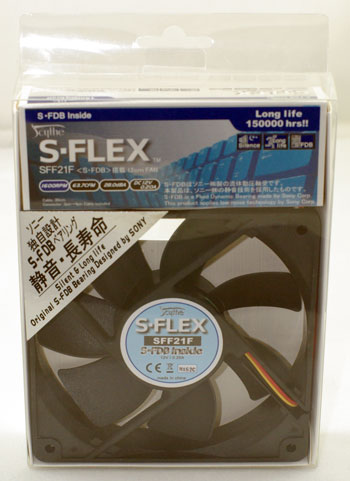 To isolate just the impact of the Extreme modification we tested with the same Scythe S-Flex fan used in the
Thermalright Ultra 120 review
. This excellent fan moves a lot of air, but still keeps noise low with the Sony developed Fluid Dynamic Bearing on the fan motor.