The AMD 690G/690V chipset was officially launched about a week ago. This is AMD's first integrated graphics platform and in our initial testing proved to be a serious competitor to the NVIDIA 6100 series and the Intel G965 in video performance. We have had a little extra time to work with the chipset and feel confident enough in the chipset and drivers to publish our first performance results today. While our initial results will concentrate on video, media, and audio application performance from a chipset level, we will be looking in-depth at each 690G board in our upcoming mATX roundup that features over ten boards from four different chipset suppliers.
We actually have had the
MSI K9AGM2-FIH
in our labs for several weeks and the initial performance results were somewhat disappointing based upon our expectations of the chipset (not the board). However, through the release of new BIOS code and driver updates from AMD, the board has turned into quite the performer in several areas. Of course the previous statement should be tempered to a certain degree as AMD's first IGP is competing against an NVIDIA chipset that has been out for close to 18 months and an Intel chipset that continues to disappoint us at just about every turn.
Our opinions about the basic performance level of current IGP solutions are not kind as we feel like the continued minimum functionality in such solutions creates issues with developers looking to move forward but who must always have a foot in the grave to ensure their products run on the lowest common denominator platform. To a certain degree, that platform has historically been Intel based as they are the world's largest graphics provider. This is a position that breeds frustration when the overall performance and feature sets are so low that one wonders why they even bother to update their IGP chipsets targeted to the home user.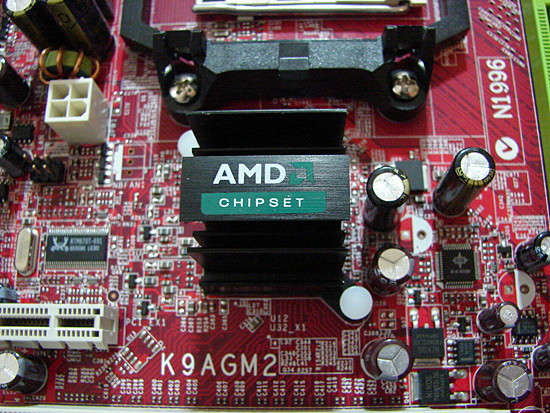 Of course the introduction of Vista will ultimately benefit consumers and developers as it forces a certain base feature set and performance requirement for graphics hardware. However, even with DX9 functionality required for the full Vista UI, the performance and compatibility of current games with
Intel hardware
under Vista is dismal at best. All of this sounds like a lot of doom and gloom, and in some ways it is but such is the life of an integrated graphics platform in the hands of even the most casual gamer today. This is why we are always looking forward to seeing new integrated chipsets as competition drives innovation, no matter how small the improvements might be at times.
This is not to say that the AMD and NVIDIA solutions are that much better than the Intel G965; they are to a certain degree, but without earnest competition from Intel these solutions do just enough to stay ahead without actually encroaching on the discrete GPU market. However, at least these solutions provide a much higher degree of compatibility and performance with most games and applications. While running the latest games such as Oblivion or Supreme Commander require a resolution of 1024x768 or under with medium-low quality settings, at least a user has the chance to play the game until they can afford a better video solution although the experience will not be a pleasant one with the latest game releases.
Let's take a quick look at the specifications of the AMD 690G/690V chipsets and its performance against the other major IGP solutions.