Impact of Drive Performance on ReadyBoost
For our ReadyBoost tests we used a modern hard drive, a Western Digital 500GB drive. We wanted to find out if ReadyBoost had an even greater impact if your system has a slower drive, so we switched to a five-year old Western Digital WD1000 100GB drive to see how ReadyBoost's impact changed, if at all. We took three benchmarks - the Movie Maker, Word, and Application Close tests - and ran them on the WD1000 to compare performance scaling with ReadyBoost.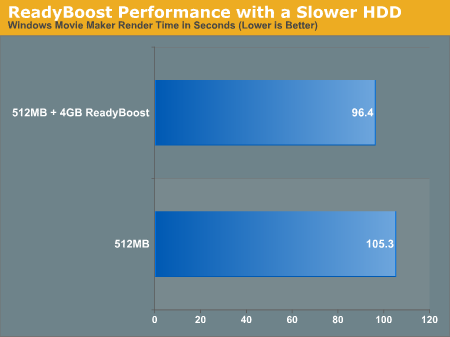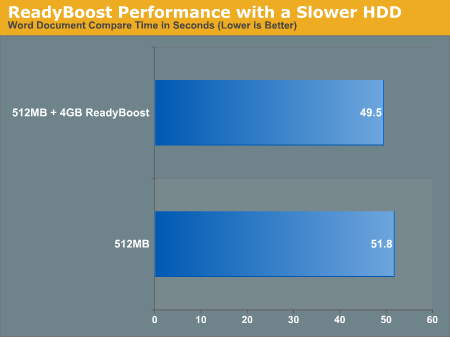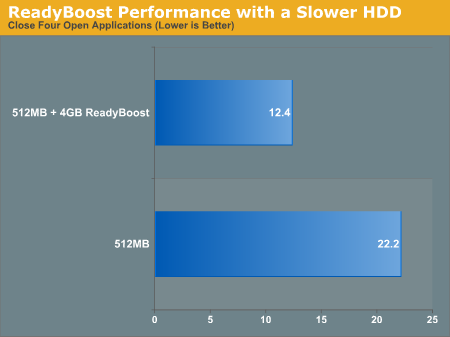 ReadyBoost doesn't seem to do any better with a slower hard drive, although we'd suspect that you may see bigger gains on similarly old notebook drives.
ReadyDrive
The last I/O feature before we get to networking is ReadyDrive, a technology that is closely related to ReadyBoost. Whereas ReadyBoost is designed for use with external flash memory, ReadyDrive is based around internal flash memory, which has been cropping up in recent years in so-called hybrid drives (hard drives featuring large amounts of flash memory as a cache) and with Intel's Robson technology (which puts flash memory right on the motherboard). In both of these cases this internal flash memory has the added advantage of being unremovable and hence more reliable (as a USB flash drive could be removed at any second along with its cached data), which opens up a few more uses of flash memory as a cache.
On top of the standard caching uses to improve general performance, ReadyDrive can use this internal flash memory as a way to improve hibernation recovery and boot times, as flash memory could be a faster non-volatile data storage than a hard drive. Use of this flash memory also stands to reduce average hard drive power usage (a particularly important item for notebooks), as caching of data can allow Vista to spin the hard drive down more often. Finally, integrated flash devices are likely to be faster overall than most external flash drives, for a couple of reasons. First, pulling data over a USB connection tends to require a bit more work. Second, we would expect most integrated flash devices to use higher performance flash memory.
Coming up with tests for ReadyBoost was a bit tricky, but testing ReadyDrive is even more so. Besides creating some reasonable test scenarios, you also need hardware that supports ReadyDrive. It is also likely that various ReadyDrive devices will offer differing levels of performance. For these reasons, we will hold off on trying to benchmark ReadyDrive for a future article.